Anybody who saw an episode of Miss Rap Supreme knows that Byata does not play. Pulling from her Russian roots, adding the grit of New York City, and spitting lyrics both rock hard and sexy smooth, she's definitely making moves. FSF caught up with her cuz we heard she was a sneaker fiend. Of course she is...
by Lori Lobenstine
How did you get the name Byata?
Byata is my name in Russian. I love it.My real name's Beatrice, but I think that's just cuz my mom felt embarrassed putting "Byata" on my birth certificate, you know? When I was a kid, I hated when my mom called me Byata in front of other kids. But I hated Beatrice, too. I thought it was too grandma.
BYATA ON KICKS
What are the first kicks you were crazy about?


Reebok Pumps. I just wanted to pump up my sneakers and fly away! My mom only got me Keds, cuz we didn't have a lot of money, but my cousins gave me their hand me down sneakers. I had some nice hand me down Pumps, a couple pairs of hand me down Nikes; it was cool.
How did growing up in Brighton Beach (part of Brooklyn) impact your kicks?
Filas! Filas were big in Coney Island, Brighton Beach, Bay Bridge. All the Italians wore them, the Russians wore them. I had a couple pairs.
How would you describe your collection?
I don't really have one style. I like funky sneakers, high tops... I might throw on a pair with a miniskirt or with jeans. I need sneakers that I'll be able to wear however; they gotta be versatile.
Right now I got about 20, 30 pairs of Nikes: hightops, lowtops, old school…whatever. I got Milkshakes. I like those cuz they're colorful. And I love Converse. I got these Converse I been rocking since I was 15. And these burgundy and suede nikes with the white check mark, you know, track sneakers. I had them since I was about 15 too. I just throw 'em in the laundry and they good!
Okay, who had the nicest kicks in the Miss Rap Supreme crew?
Chiba had a cool little sneaker game going on. You know we had our issues, but I don't hate. Other than that, Rece and me had some nice kicks. I had a fly pair of Pony's I rocked.
Did anyone rock fakes?
I don't know. Maybe Chiba rocked some fakes. She looked like someone who could rock fakes.
Do you think there's anything special about being a female sneaker fiend?
Females are not supposed to be sneaker fiends. They're supposed to wear boots, stilettos, stuff like that. It's a little different. If you a cool chick who has a cool sneaker game, it says something. Like you can run, you can get hurt, you can fall, you're ready for shit. It says something about you.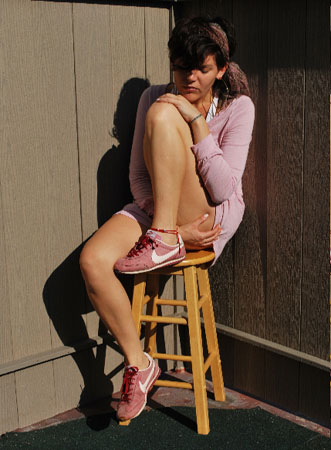 BYATA ON HER MUSIC AND HER CAREER
You've had to break down some barriers and stereotypes, what's been the hardest?
Being a white girl, period, people think I can't rap. Think I got no oomph, no soul. But they also don't get that I'm Russian. I grew up in a crazy European house, with lots of hustling, all LOUD. I mean, I learned how to hustle.
You've been careful not to get pigeon-holed. You don't want to be seen just as a white rapper, just as a female rapper, or even just as a rapper. Has that been hard?
I'm trying to be an artist, period. People perceive me, my style, whenever I step on stage or make an appearance, I'm sexy but street. Classy but hood. My style hasn't been defined yet. It's unique, it's real, tangible, people get that. They like that.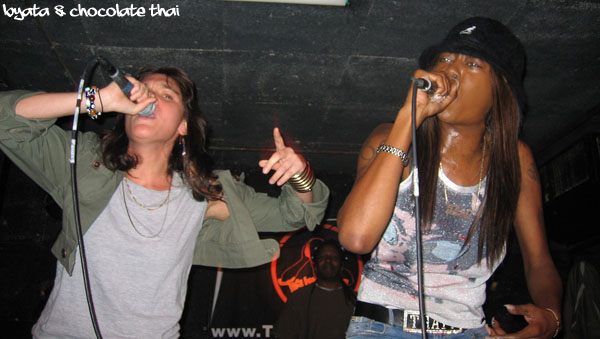 I remember your mom was not at all happy when you dropped out of college. I think she kicked you out the house. What does she think of your career choice now?
Oh she's cool with it now! The TV show took it over the top with her. She supports me being an artist, she comes to shows. She calls me to find out what's going on. If something's stagnant, she's always like, "What's plan B?" She wants me to be okay when I'm 80, not thinking I made some big mistake. But I don't want to be 80 or 90 and wishing I'd done shit! It's an interesting process.
So what's next for Byata?
I'm about to do some stuff with Grandmaster Flash, so I'm real excited about that. He's old school, and I like old school, like Marley Marl is one of my producers. I like old school sneakers too… And I'm about to star in a movie, the Rothstein Diamond movie. I got the leading role! Basically I am a woman who's trying to survive in this world with a kid, and in order to do so I start a little robbing spree...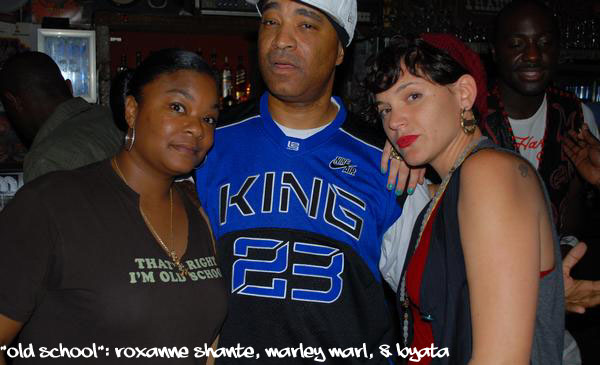 Anything else you want to say to the female sneaker fiends out there?
Stay unique in whatever you do and how you do it.
And we could add to this: don't let stereotypes get you down, don't give up on your dreams, don't settle for plan B, and don't be afraid to put your kicks in the wash!
To keep up with Byata, check: myspace.com/byata and www.byata.com