So this is the LEGENDARY Ella Esco (First Lady of Team 909). You may have seen Ella or at least her feet in Sole Collector magazine or as one of the most viewed members on SneakerPlay. I first "met" Ella as the SneakerPlay Secret Santa coordinator last year, and somehow I ended up being her secret Santa. Anyway she's got some crazy AM95s and a tattoo to match....Ladies & Gents, Ms. Ella Esco!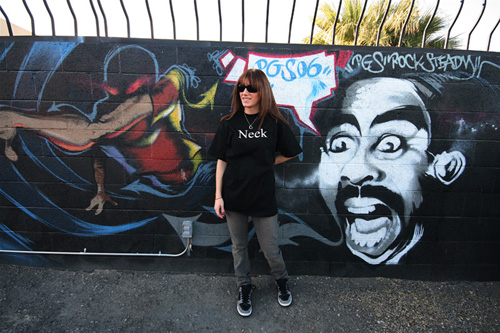 How long u been in 2 sneakers?
I'd say since I was a lil girl, but I never quite got what I wanted till I was older and out on my own.
Fave sneaker brand/style
AirMax....the 95s & 96's reign supreme, but I love all air maxes, God Bless Nike Running!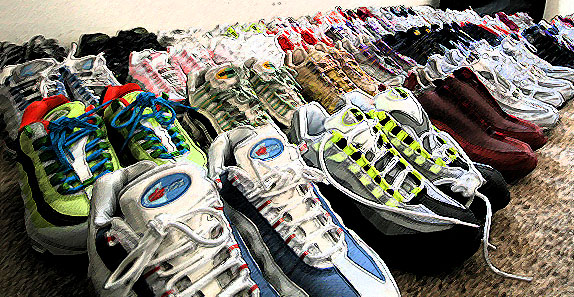 Favorite sneaker memory
My fondest memory was the day I got my size 6 black supreme lows or my Methamphibians (Thanks Pete!)...and I rock them into the ground. Any and every sneaker party you would see me in either pair, just not carin' who stepped on 'em, cause chances are no one had 'em, and I was havin' a good ass time! They're my defaults or my beaters, if you will.
Women vs. men kicks
I've always said there is segregation in anything you do, but if you love it you will truly find a way to rep yourself and not focus on what you can and can't have based on size... Colorways that are good are few and far between as of lately. And I must contradict myself and say Kids Denim Hulks > Men's SB Denims. I got 5 pairs left. Naaa naaa naaa naaaa naaaaa!!!!!
1st pair of sneakers you paid/worked for
1st pair I REMEMBER workin' for was the Jordan XVI white/red lows, but I felt much more confident the day my '94 black/red I's (retro, obviously) were given to me in NYC from my ex. Greatest birthday surprise ever, even over the rest of the trip in the City.
Feelings on FAKES
I just vomited in my mouth a little, and I'm NOT hungover.
Favorite sneaker spot
Always---UNDFTD!!! I don't like to name drop, but when it's for good publicity it's cool. Shouts out to Eddie—he's a sweetheart, Alex for ALWAYS showin' me love, Fred & Matt and of course the homie, Chris (and the union crew too, I love ya'll too!)... No group of people have ever treated me with more love & respect as a sneakerhead and person in general. And it's always nice to have friends that will just have coffee with you if you're just stoppin' through.

Boutique? Mall? Online? Ebay?
Hmmmmmm ebay, first name that comes to mind is PONDON, she has always been way chill even from Japan and with our language differences. and of course ShutDownTheGame! Most legit guy out there who reps me whenever I have a chance to buy anything. I love South Coast Plaza in Cali and Pioneer Square in Portland. There's soooo many boutiques, so I'll stay local and say: Thoroughbredz, Fruition, Epic, New Standard, Laced and UNDFTD LV -and coming soon Stussy LV!!!! Campground (I think that's the name) is a dope boutique that's comin' up; they have art, toys, gear and kicks...good people too in Portland, OR. Used to be called "Just Be." I really haven't shopped online in a while, except for maybe Karmaloop- Kazbah Section. Oh wait, and MIAMI cats, check out Hi-top Boutique!!!
Fave clothing brand
HiCalorie, ek5obition, Supreme, Stussy, 9grand and Jeepney.
Shout outs & anything else
First, my Fam-Team9o9. whom I couldn't have come along this far without, and I will do just about anything to protect our cause. Fixinsdotcom crew!, Riott.com , Pete of sneakerpimps, Greyone and Soul Assasins, Kendo, Blends, Conveyor, Proper, Willys Workshop, Sportie LA, Huf, DQM, ALife, Clientele, Nom De Guerre, Packers, (etc) and Adam-DJ AM...Yea, like 6 years later I still have a pseudo crush on him. Oh yea and the best Photog out of Vegas-NEEK!!! check out wheresneek.com, a photo diary of the youngest and illest kid to date and comeourway.com. (Editor's note: the photos of Ellaesco in front of the walls were taken by Neek.)