What's it like being a sneaker fiend in Melbourne? How does it compare to Sydney? Are there a lot of female sneaker fiends in Australia?
Being a sneaker fiend in Melbourne is great; there are a lot of us around (both males and females, majority males dominate the scene). I think sneakers actually feel like part of Melbourne culture. Sneaker Freaker magazine and the numerous kick specialty shops have helped this too. There is a massive difference to being a sneaker fiend in Sydney to Melbourne. Sneakers are not as recognised in Sydney other than footwear to a lot of people. I don't think people appreciate fresh kicks, customizing and the rarity of the whole collecting thing [in Sydney]. Maybe it is because they have less "fashion sense".
Why do you think Australia has made such a mark on the worldwide sneaker subculture? [For those who don't know, Sneaker Freaker and Sneaker Pimps were born there!]

Well the sneaker scene is probably the strongest in Melbourne (from what I have noticed, and maybe because all my mates are crazed by sneakers too!) I think Sneaker Freaker has been a major part of this and the culture. Melbourne is a pretty laid back and casual place that is all about culture. Sneaker Freaker is the home of all us Aussie sneaker heads!!!
When did you start loving sneakers?
From a kid I guess, when I was rocking cool kicks in the late 80's. The LA Gear (LA Lights) and the Dance Reeboks (ohhhh double tongues) came out, and I had to have both. I think that is when the obsession started. The first pair I was crazy about were my black and hot pink Dance Reeboks. I think I was about 9 or 10. I wore them everywhere. They had double tongues and double laces: they were HOT
Describe your sneaker collection.
It is small but beautiful. I have a pair of 91 LA Gears and a pair of 90's Pony's that I have not seen anyone else in, so I would say it is a pretty different collection. My goals for my collection are to take my time... (I mean my collection would be much bigger if I have the cash.) I am looking to get myself a couple of pairs of [Reebok] pumps, a pair of bringbacks and a pair of alifes in white. I have a few new pairs on the way, including a pair of LTD's, Jordan 1's and a pair of nike air force one calf highs.. I can't wait!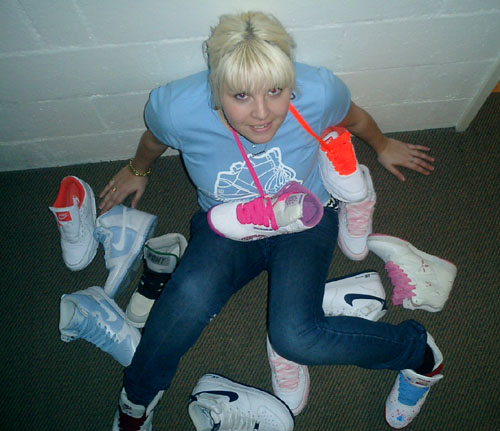 Why do you think you're drawn to the old kicks of the 80s and 90s? Are the new ones not as pretty, or is it more about memories?
No it is not that the new ones are not as pretty. I just have, yes, the memory, and I like the old touch... I am an 80's child who has never quite left the 80's! I mean there is a massive influence there from music, idols, and, well, I was born in the 80's. I think the 90's is a massive part too 'cause I was old enough to really, really appreciate kicks then. Like in high school when I was rocking nike huarache's and BW's in the classic purple and blue…YUM!
Are there challenges to being a FSF?
NOT AT ALL… except not being able to get some kicks in a small enough size.
What's your advice for us to give FSF a more international flavor?
Get some parties and stuff crankin'! :) Word of mouth I think is the best thing, and the fact that everything is online these days makes it much easier to get the word out there! We need more AUSSIE FEMALE SNEAKER HEADS!