After Laura saw the Sneaker Freaker article about FSF's upcoming GIRLS GOT KICKS book, she reached out to us to tell us her story of leaving home at 15 to strike out on her own as a professional aggressive skater (and female sneaker fiend!)...
What's it been like being on your own so young, both personally and professionally?
Since the age of 15, I have been a sponsored aggressive inline skater. I left home at the age of 17, half way across the country.... for style, culture, my skating career and SNEAKS! My life was going nowhere, seeing a lot of my friends fall into the hands of drugs, nothingness and boring lives.... this is NOT what I could see me doing, I left Peterborough to relocate to Manchester and start my own life from scratch (even though I was still a teen). This not only made me independent, aware, and conscious of the wider eyed world, but made me a stronger person emotionally and physically. I missed the opportunity in 2008 to qualify for World Championships in Cali, which really knocked me down.
After all the bad shit that's happened and the ups and down from almost being homeless to living like a queen, I don't let it faze me. Life brings ups and downs, and I've had to learn to grow up at an early age, but who cares? On a personal level, it has taught me something that parents can't do – how to be street wise, how to control and manage your own responsibilities in your OWN way, not how they think it is best for you. I've learnt to make my own mistakes, and lots of them. I don't think that's a bad thing though. My story is clearly not the 'stereotype' teen. Everyone is different and I like to think I have my own unique style that ranges from retro Jordan 4's, to colourful air max 90's! People always say to me, 'God Laura, you've got a different pair on every time I see you' or 'Where'd you get those?' or 'Oooh they're sickk!' And I think that's what part of the buzz is, the recognition, the smiles that happy feet can bring, and the STEEZ!
How are women viewed in the professional skating world?
I think in the beginning and possibly a bit now, women skaters were a bit of an eye catcher, but only because they were skating with a pair of breasts. I know many females that have smashed that right out of the window and thrown some guys out of the picture! They've proven that it's all about the tricks and the love. My friend Jenna was pro at the age of 15, she's now 20-odd and skating in music videos, she is the current world champion, participates with children to get them involved in sport with 'Sport England' as well as having a degree, languages AND modeling.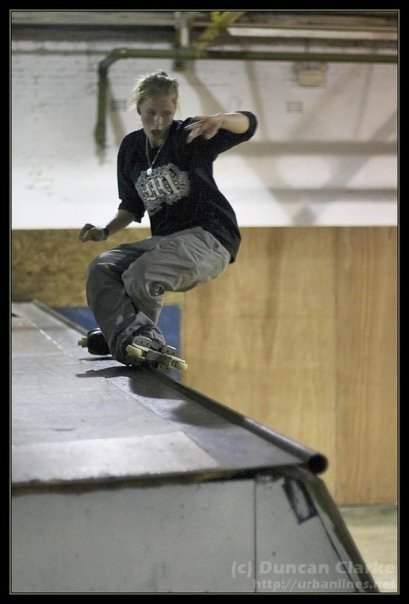 What advice would you give to young women going out on their own to follow their dreams, or even specifically to be professional skaters?
With a lot of hard work and practice, you really can achieve anything, and just because you're a girl doesn't make it any different; if anything it makes it more of a challenge to prove yourself! If you have goals, reach them! Don't let guys say 'that was sick… for a girl'. One up them and prove it's not okay because you're a girl, its okay because it's a sick trick! If you're in need on some inspiration, then look no further than the pro girls out there.
(This shot's going in the book! Thanks Loz!)
What's the sneaker scene like in England?
The sneaker scene in the UK is pretty sweet, but you got to look hard for it sometimes. It's never as easy as going into foot locker or size etc. thinking that there will be some sick newbie's waiting for you. Know your release dates and possibly a contact that works at footlocker to keep you informed on levels that you can't get to ;).
Describe your sneaker collection.
I am only 19, so my collection is quite pitiful compared to others who have been collecting for decades. This is because I am still amateur, young, and also because people like me don't get the opportunity to spend money like rain anymore (not to mention to lack of variety and new releases in the UK). Sneaks in England are SO expensive! As you may know the British economy is apparently 'emerging from the credit crunch', when really it is so much more deeper on the streets than the government can ever see! Having a love, a passion and a hobby such as basketball, skating, or SNEAKS is what pulls me through hard times. I work an office job everyday for half the national minimum wage. I'm one of the true struggle stories, being forced out of my flat to live in my boyfriend's family's box room, can't afford to eat properly, but what hurts the most is when I walk past footlocker, size and online... to know that I can't afford my passion anymore. The struggle over here is still well in force. I still got a long way to go; I want 100 before I'm 21. (1 and half years to get cracking!)
Do you think its different being a FEMALE sneaker fiend?
While most girls were playing with Barbie dolls and having slumber parties with make-up, I was playing any sport I could throw my body in to! But it may not just be sport, for others it could have been music, or how they were brought up which was the main influence into the scene, that's what sets sneaker girls apart from standards girls. I know girls with 1 pair of sneaks and about 50 pairs of heals. I just can't imagine life like that…constant blisters, worrying about not to step on a cobble or stone, can't jump or run about or have fun unless it involves short mini skirts, half a kilo of make-up and drugs for dancing. That's just not me.
I have one girl-friend that's been sneaker shopping with me, and it's so much better knowing a girl on that level! Instead of stopping to look at dresses and nuff jewelry and shit you won't wear, she'll stop me because of someone walking past in some mad colour-way/retro/rare sneaks! That's love. Normal girls just don't care, AT ALL! When I meet another person who is on the same level as I am with sneaks, I hit the roof in excitement, it's like finding a connection between voicing the sneaker and the sneaker community. I am yet to meet a girl (in person) who is as crazy about trainers as me, and seeing these pictures on the website is making me want to meet you all!