What's your full name?
The government?!? Hello, not going to happen. I go by Roc though.
How did where you grew up impact your sneaker style?
I grew up an hour away from New York's Fordham Rd. ENOUGH SAID!!!
How was the sneaker scene different moving from CT to Detroit?
The biggest change was finding new spots to get REAL shoes from. There are waaayyy too many spots out here that sell fakes. You can cop a pair from the gas station! How whack is that?
Can you remember the first pair you were crazy about?


I don't think I have ever crazed about a single pair of shoes. I see some I like, fall in love with them, cop them, and then do it all over again!!! There is this one pair I really want though some Gold Supra Sky Tops by Muska. Anyone have any info get at me ASAP.
Do you think it's different being a FEMALE sneaker fiend?
I think the difference between male and female sneaker fiends is rapidly decreasing. I think the shoe companies (especially Nike and Jordan) saw the open market and started coming out with sweet designs in women's. Because a few years ago going into Lady Foot Locker was as exciting as having a yeast infection. Guys like my kicks. I wear men's shoes most of the time, so they always ask where did I get my footwork.
What are the challenges involved in being a sneaker fiend?
Biggest challenges of being a FSF are not copping a pair cuz I have a bill or two to pay, or eating noodles for a month because I copped a couple new kicks. Plus I dig chicks and dress like a dude, so I gotta bring it just as hard, if not harder, than the guys.
Do you date girls with nice kicks or more girly girls?
More girly girls, but they will throw on some kicks once in a blue.
When did you realize you loved sneakers?
I realized I was a shoe fiend when my mom told me to take a pair of Converse (I just bought!!) back to the store (cuz I had to many shoes already). I hid them at a friend's house until I went off to college.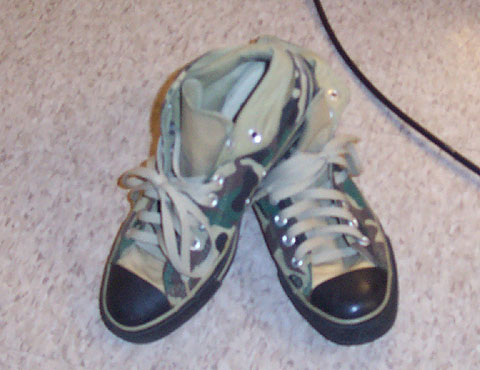 Describe your sneaker collection.
I have like ADD when it comes to shoes. My collection started with Jordans I just got bored with them, so my collection had a little of everything. Vans, Converse, Dunks, Uptowns, and other Nikes. I don't really mess with Fila and Reebok.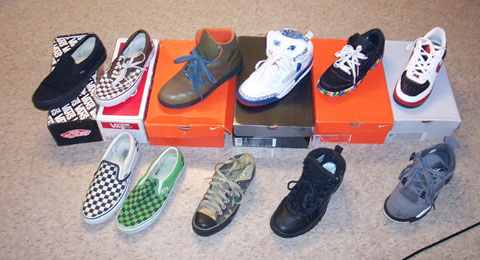 What do family and friends think about you being a sneaker fiend?
Everyone has something to say about it. When I was going off to college all my cards said, "Here's some money, don't spend it all on sneakers!"
Where do you buy sneakers? How much will you spend?
My favorite place to buy sneakers is this little boutique around my way. All I'm gonna say is BCK. Also Karmaloop.com and Zappos.com have some sweet deals. As of right now I am willing to spend up to $300 at the most on kicks.
Do you have a favorite pair of all time?
My favorite pair would have to be the grey Jordan 4's. I ran mine into the ground though, but if I could go back……
Anything else you wanna mention?
If you collect fakes your not a collector!!! If you rock fakes you're not a sneaker fiend, flat out. STOP ROCKIN FAKES!!!!
What do you want to do with your sneaker passion in the future?
I want to be as close as i can. Maybe open a shop, who knows. But my mag for sure. Tongue Tied.