What's it like being a sneaker fiend in Sweden?
People don't understand the sneaker culture over here. So I rather keep my mouth shut, plus I don't wanna get broken into. There is a lot of crime and burglary over here. Sweden is wild, people!!! People are like: 'You collect sneakers? You can't collect sneakers! Shoes are something you use.' Funny story: I called up the insurance company to insure my collection. They had never ever heard about anyone who collected sneakers, and when I told them how much my collection was worth, I could almost hear their jaws drop!!! Ha ha.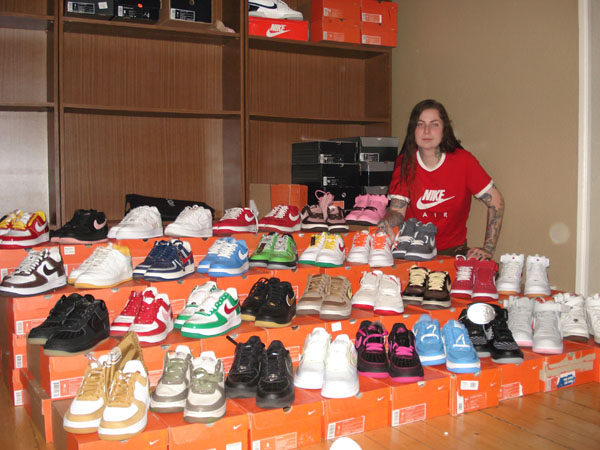 But the younger hipper people in this godforsaken town know who I am. They know what's up!! But it's like this over here: If you stand out in a crowd, people point and stare and whisper about you. One time a guy on a motorcycle was eyeballin' me so much instead of having his frickin eyes on the road that he got hit by a car and was in one of the worst accidents I have ever seen. A lesson learned people. You shouldn't stare at heavily tattooed sneaker lovers!!!!
Do you think it's different being a female sneaker fiend?
I think it's a little less different for me, cause of all my tattoos. I've never really been considered a girlie girl......but hell yeah it's different. People don´t take you serious; they underestimate you. But you can´t judge the book from its cover. I was sneaker shoppin' in Philly last year, and I found the Jordan DMP pack and was asking about it and the seller was like: How do you know about that? I responded, "I´m Sneaker_Sandy and my collection beats your collection any day!", and I laughed. And once shopping at Flight Club they had just closed so it was just me, Clark Kent and Chris Vidal in there. And me and Clark Kent was talking and joking around and Chris turns to me and asks me: Do you know who your talking to? That pisses me off...just because I'm a girl I don't know my sneaker ABC. Of course I do and better than most guys!!! Don´t sleep on the ladies!!!!
How was your latest sneaker tour of the US, including reppin' FSF at Sneaker Pimps?
Every trip keeps getting better and better, you find out about more spots, you get to know more people for every time you come over. Every time I come to America I come home with more and more sneakers (lol). This time I came home with 19 pairs. That's a record! I was going hard this time, but the selection was really dugged out. You can tell that almost everyone loves sneakers nowadays!! When I got back I didn't look at sneakers or gear for almost a week; my eyes was hurtin' from seeing all the dope stuff that you guys have. Ahhh...NY= sneaker heaven!!!
And Sneaker Pimps NYC man, it was one of the funnest nights ever for me!! I didn't want the night to end. I'm so used to being by myself and chatting with my internet sneaker friends and now: A little girl from Sweden being surrounded by THOUSANDS of sneaker lovers. It was an intense experience. Really!! Ha ha, my boyfriend said that I was like the Energizer bunny, one second I was standing and talking to him, the other second I was gone. I had such a fantastic time, and I hope to bring the tour over to Sweden one day.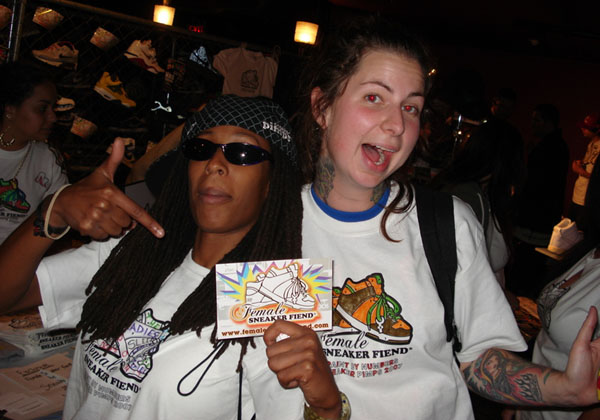 Rumor has it you're a mail carrier, so you're on your feet a lot. What kicks do you wear on your mail route?
Damn, I rocked every shoe there is to rock. Dunks, AF1, AM90, AM180s, Jordans, the list goes on and on. I use like two or three pair of kicks per year; I wanna be fly and comfortable at the same time. In the beginning I even rocked mad limited shit that I really really regret rockin' now!!!! I´m the flyest mailman ever..... You never know who you will bump into.

I'm still hoping that WU TANG CLAN will pass me one day when I'm rockin' out to some WU TANG tunes, and they will pick me up on their tour bus and kidnap me, ha ha!!! WU TANG CLAN AIN`T NOTHING TO F%#@ WITH. (Yes, it's embarrassing I know. People must hate me when I walk up their stairs, and they hear me singing some Whitney Houston or some hardcore hip hop shit.) But I must say the most comfortable sneaker so far has been the AF1. And the least comfortable sneaker must be the AM180. The sole is too thin and doesn't give me that much support. I like that bouncy feeling!!!
What's it like blogging for FSF?
I love it!!! Being able to express myself, write whatever I want, post pics from trips and different events, interviews with interesting people and new sneaker releases. I feel blessed. And what a great bunch of girls to be around, and definitely the best place to hang out on the internet. FSF rules!!! And I noticed that more and more people know about the site and our blog. Don't sleep on the ladies, guys.