When did you start loving sneakers?
I can remember as far back as elementary [school] loving sneakers. Back then choices were limited. I was content with my leather nike cortez sneakers (white with red or blue swoosh only). I even rocked some other old time favorites like converse all stars, basic colors even rainbow colored chucks. Man, I even had kangaroos. Oh how I could not wait to go to lunch so I could pull my change out of the little pocket! Other old school classic kicks I rocked: pumas, k-swiss, ellese, fila, sergio tacchini, lotto w/ removable velcro lotto logos, even diadora and lecoq sportif.

In high school I even had a pair of gucci sneakers. [They were] my first pair I was crazy about, back in the 80's, white, with red and green. Round laces with red and green trimmed at the back of the heel counter of the sneaker. With a green outersole. The same sneaker style as the first style of s. carters, how about that?
When did you realize you were a real sneaker fiend?
I was so into sneakers I got my first job at lady footlocker at the age of 18. It started with air maxes, jordans, then air force ones. Keeping up with release dates, especially jordans. I knew I loved sneakers also when I would go anywhere and almost everywhere to hunt down a pair of kicks, waiting in lines, no matter what time, arguing with other sneaker heads about who was first. Another sign is I am always thinking about the next pair of kicks.
What do your family and friends think about you being a sneaker fiend?
Well, they think I have a serious problem, but they support me, and they love seeing what new kicks I have copped lately. One of my sisters just wants to know what they should do with these kicks if, god forbid, something ever happened to me! lol. My mom is like, "Another pair of shoes?"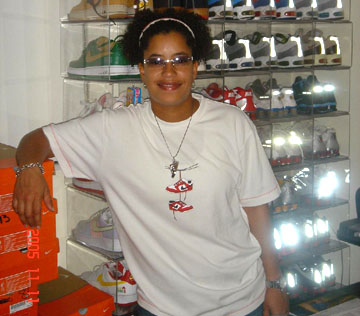 Describe your sneaker collection.
My collection is about 200+ deep, 99% nike. Gotta have a pair of k-swiss white classics, adidas shell toes midtops, all white and all black. I even own a pair of converse weapons in the Lakers colors. But I am truly addicted to nike. I collect air force1's, nike dunk sb's, some dunks, air max running, some b-ball kicks, and some miscellaneous styles of nike also. But my favorite collectors kicks are the jordans.
Do you have a favorite pair of all time?
Too many to list, but if I must say, air jordan 4 blk/red, my dunk sb hemps, rayguns both colors, and my air max 1 amsterdams.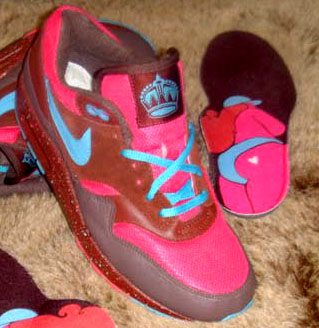 Describe the life of a pair of your sneakers.
When I buy kicks, I hunt for kicks that are new, hot and sometimes very limited. Some of my kicks are kept in clear plexi cubes, others on a chrome shelving unit, and the rest in their boxes. All easy access and visible; this makes it much easier to find a pair to rock. Whenever I do rock my kicks, I am very careful about when I rock 'em and where. Certain pairs for certain occasions. After I rock'em, I make sure and I inspect for any marks or bruises, wipe them down from the uppers down to the outersoles. I'm from the old school so a little soap and an old toothbrush or any little brush and a clean rag does wonders. Some of the sneaker foams work, but not all. I even use sneaker repellant sometimes.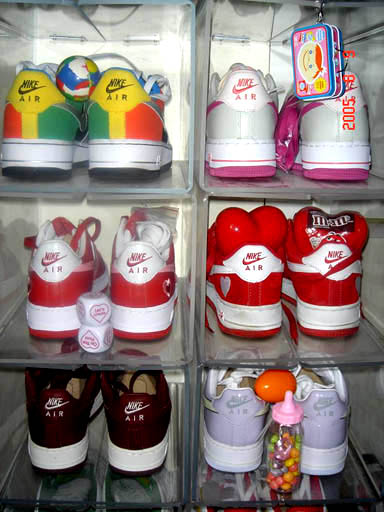 What do your sneakers say about you? And who's your audience?
No heels! No pumps! I am just a female that's addicted to kicks. To everyone, even people that are not into sneakers, all over the globe…why not?
How do you recognize a female sneaker fiend?
A female that's rocking some fresh kicks on a daily/weekly basis, and I guess I would really have to chat with her to find out how much of a fiend for kicks she really is. Sometimes a female might just be rocking a nice pair of kicks, but may not even be aware of the hype or knowledge behind those kicks.
Do you think it's different being a female sneaker fiend? How so?
It's different only if you make it different. But in reality, c'mon. Females that have mad sneaker knowledge stand out. In most of the shops where I shop, females are not the dominant clientele. The way I see it "to each its own." I don't really put much thought into what the fellas think, but I do know that there is no rule or law that says that only fellas can be sneaker fiends.