Behind the Curtain at New Balance USA
Classics, colors, and predicting the future...an interview with Carey Platto.
by Lori Lobenstine
Alright sneaker fiends, here at the site, we've brought you lots of information about fiends like yourself (and totally different from you!), but here is a piece just about the sneakers. My goal is to have more content about what's going on in the sneaker world as it continues to evolve, what trends are coming, what materials/ colors/ technologies we can look forward to, and what's going on "behind the curtain".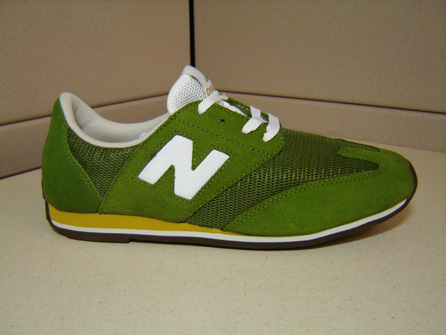 To this end, I went back to an old college bball teammate of mine who works at New Balance USA in nearby Brighton, MA (thanks Katherine Petrecca!). She hooked me up with Carey Platto, the Associate Product Manager for Classics. He gave me the lowdown on what's up for their classics line (the retro craze will die out), how sneaker companies predict the future, and why men and women get different colors…here it is: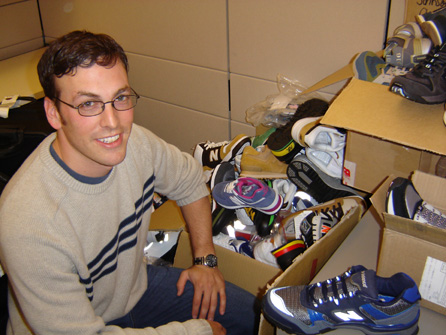 What got you into working at a sneaker company?
Well, I came from the outdoor industry, and I always wanted to do work with a product that I care about, and that I have some relation to. That was true in the outdoor industry, but it was a little niche, and I wanted something broader…athletic footwear is the perfect mix.
Would you call yourself a sneaker fiend?
Yea. I mean I wasn't before I started working here [2 years today!]. But every time I'm outside nowadays, I'm looking at people's feet more than their faces. You know? It's like I can tell who somebody is by what kind of shoes they have on, or what kind of mood they're in because of what kind of shoes they have on, or what size foot they have…
Did you wear New Balance as a kid?
I only had one pair of New Balance as a kid, and it was a basketball shoe. High tops, [James] Worthy, 6th grade. I wore a lot of Nikes when I was growing up.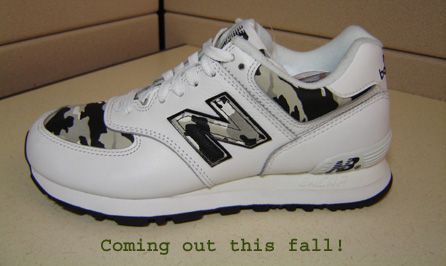 Well, let's cut to the sneakers. What are the predictions around Classics? Cuz, we keep thinking, is the retro craze gonna end? I mean, I'm hoping it doesn't, but it feels like it has to end…
Yea. Well, within the industry we've all been predicting it to fall off already, but it hasn't. I think it will fade, within the next year and a half, so by the end of 2006 there will be a trend toward more modern shoes. We thought Shox was gonna be the first in a series of real modern looking fashion shoes, and other companies tried to imitate Shox' success by making some new funky midsoles. And it's working, but only moderately. Basically I just think the retro trend has lasted longer than the manufacturers thought it would.
So my big job managing Classics is to maintain the number of 574s out in the market, to not let it get too big, not put too many colors out. I mean there are a lot of colors out there. Like, just do one color a month, not do two or three a month. And also to create new styles, so that when the 574 slows down, there's still a New Balance presence...
So, something new, and some hard to find ones so the hunters are happy?
Exactly. That's the other thing we're doing. We used to just sell classics to anybody who wanted them, and now we've segmented it out by channel. There are the boutiques like ALife, Sporty LA, Huff, and Capital 1524, and other real high end boutiques around the country, in every different city. So they get stuff no one else gets, 1000 pairs per colorway for the whole country, twice a year, you know 130-200 dollars retail. That helps increase our image, and shows the sneaker heads and collectors and trendsetter alpha-consumers that New Balance is a serious brand, and we are.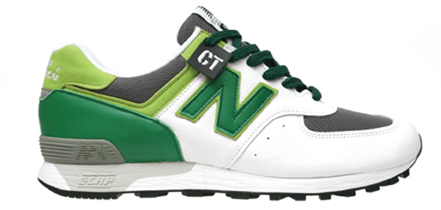 Did you have anything to do with the Crooked Tongues collaboratives [like above], speaking of sneaker freaks?
No. Our European development office, those guys do that stuff. We don't have as much leeway to do collaborative efforts with retailers or other brands here domestically as our international counterparts do. It's kind of the whole "endorsed by no one" philosophy, so we jealously guard the New Balance brand. It's hard to explain, but we don't do exclusives for any retailers. Like I don't do a color for Foot Locker, I don't do a color for Finish Line, and most of our competitors do that. It's just kind of a stance that we take that New Balance is New Balance. We don't market with anyone else.
Can you talk a little bit about how you pick colors, what role you get to play as the sneakers develop, in the stitching, or that kind of thing?
Yea, sure. It's a pretty central role. Like next week I'll give color directions to my team for our 3rd quarter 2006 product line. So I'll research trend books, about what colors they think are going to be hot, in a given part of the year, for a particular consumer. And then I'll balance that against my own experience and knowledge of the market that we're trying to tap into, as well as conversations that I'll have with influential buyers, as well as just people out on the street. So I prepare this big document, saying these are the colors I want on these shoes. So the designers take that direction, and spin a whole bunch of what we call boards, just colorways on the computer, taking those colors in different blockings on each shoe. And we sit down as a team— design, development and marketing—for a whole day, and just go through all of those options, and pick out what we think is a good collection for the quarter. Then we create those shoes, so it's usually like sixty shoes, and then we take them out to the market. So we take them out to buyers that we want to make sure that we involve in the process from the beginning, kids on the street, and then we translate that feedback into the next round of samples. We do this process three times per quarter until we come down to the final collection.
Did you guys ever try a color that no trendsetter has recommended? How far away from those recommendations are you guys gonna go?
Yea, I mean personally I have a feeling about aqua for 2006. Teals and aquas I think are going to be a good women's color. And I haven't seen that much on the trend books, but we haven't seen it out there in a while. So I'm starting to notice, maybe because I'm looking out for it, certain people wearing it that could be considered trendsetters.
Talk a little bit about how you pick who gets which colors, men or women, and what colors they both get.
In our experience in this market—and by this market I mean hip hop influenced urban culture—women are a little more willing to take a fashion step forward, before guys. And they want a more exciting shoe. Guys in this market, for New Balance, gray, black and navy is 80% of our volume.
It seems like New Balance is a little more progressive in terms of women. Like you guys have women's basketball shoes. That's not always that easy to find. But it seems like you also have nice crossover in terms of different colors, and I was wondering, is that part of your philosophy, or just having a lot of women working on your sneakers, or what?
I think it probably fits in with the whole philosophy at the company of making the right shoes for the right people. So I would think that making women's basketball shoes fits right into that whole idea of, there are women out there who play basketball, their feet are different from men, so they need shoes specifically for them.
Anything else you want to say to female sneaker fiends on the site?
I think it's great that you have this site, and there's female sneaker fiends out there who know and love sneakers. I encourage them to keep pushing the envelope, trying new things. The more the consumer is out there on the edge, the more out there on the edge we can be as a brand. So keep pushing it!