Style Points: Artists Talk Fashion, Flavor, and Footwear
by Janine Simon
Fashion is a form of self-expression. Before selecting an outfit for the day, you are a blank canvas. And like an artist, you choose what colors, textures and graphics best describe your mood, emotion and statement for the day. What you would wear to the Sex and The City movie premiere is not what you would wear to a job interview. Clothes are walking conversations. They articulate a bit of the characteristics and interests of the person wearing them.
Of course the laws of fashion and self expression extend to a person's choice of shoe wear. In our case sneaker wear!! Your choice of Nike Vandals exposes a sporty/tomboy side. Your Keep brand boat shoes express a preppy palate. Yes, the sneakers we wear punctuate our personal voices.
But what do writing rhymes, painting murals or spinning records have to do with sneaker styles? Well, there are concrete connections between artistry and the sneaker culture. While performing live on stage, the best artists create an experience. When setting the tone there are a few things that must be considered: the venue, audience, stage set-up, outfit and SNEAKERS! So I asked a few fly female performers about their thoughts on their kicks and their work. First I turned to Amanda Diva, a MC/ poet/ visual artist/ former MTV2 show host, the list goes on. Basically, an artist with much to say; like her art, her sneaker collection speaks volumes.
When on stage do you consider your kicks a part of the décor?
"Definitely. My kicks have to fit with the energy of the room and the venue. If I'm at a real Hip-Hop spot I'll make sure I have on some real exclusives; if it's more a live music show, Chucks are usually the move, et cetera." Femcee/poet/visual artist Amanda Diva
Another talented singer/femcee, Natalia Cappuccini, concurs, "I think long and hard about everything I'm wearing. The kicks have gotta pop! Yeah…and they have to be comfortable too!" Seeing as how she's signed to Emmy award winning artist Will.I.Am's record label, we'll probably be seeing a lot of her kicks in the near future.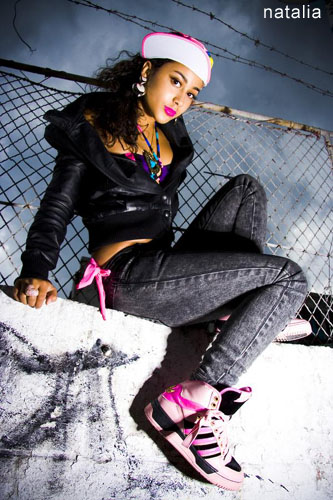 Just as designers or sneaker store owners create the layout of a store or window to accentuate a certain sneaker, artists use sneakers to create an experience around their performance. To find out more, I turned to Rose Estelle, a spoken word artist based in Seattle, Washington, who has performed in countless poetry slams, such as Brave New Voices International Youth Poetry Slam.
"A lot of my work is directly inspired by my sneakers. It is because when I perform on stage and I have some nice ass kicks, I feel more confident. My shoes give me that push I need to feel the power in my words." - Rose Estelle
How do you go about inspiring people with your sneaker/music styles?
"I try to inspire people with my art to get up and go make art of their own. There's nothing more beautiful then someone coming up to me after a slam (performance) and telling me they want to go home and write. It's super cheesy, but I get a warm and fuzzy feeling inside. Now with my shoes, I try to inspire girls that you can wear sneakers and still look sexy. It's just about pairing your dunks with the right attitude." –Rose Estelle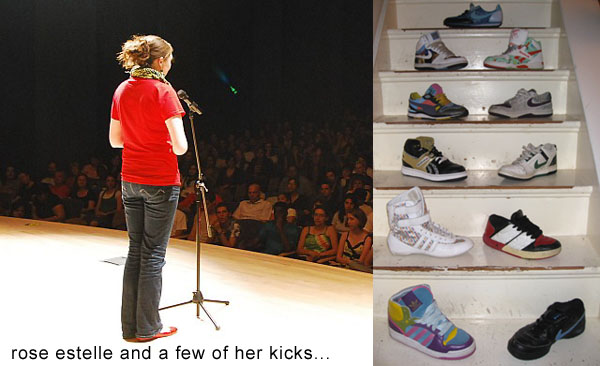 These renaissance fiends aren't limited to performance artists. Hell nah! Writer, designer, painter, culinary artist and unofficial comedian, BoomBoxBarbie weighs in on the topic of art and sneakers. Between her blog www.flavorinyourear.blogspot.com, and her sneaker enthusiastic all girl gang ABC, she has much insight to offer.
When did you fall in love with art?
" I was groomed to be an artist. Every school I ever attended was a specialized school for writers and/or artists. My mother predetermined my fate. She herself being a songwriter, hair model, actress and over all creative enthusiast. So this connection I have to art isn't merely a love of it, it's more important to me than my next breath. I was born into it and I will breed the next generation." BoomBoxBarbie
If you were to liken your sneaker style to a dish, what type of flavors would they reflect?
"Good question. It would have the aroma of dope, with a hint of fresh, nothing cliché, though a twist of an old recipe. Sandwiched between impeccable, inventive and uncustomary. Washed down by a tall refreshing glass of an irridescently au courant flavor." BoomBoxBarbie
For those of us who have much to say, our conversations spill over into our styles, and trickle down to our sneakers. One artist who does it well is Kanye West. His Air Yeezy sneaker represents an All-America brand, Nike, while incorporating his Japanese fashion sensibilities.
Who are your favorite visual and musical artists? How do they execute their visual representation of their work through their fashion/sneaker style?
"Well I know for a fact that M.I.A. has some of the best shoes I have seen. Her style is like no other because frankly, she doesn't give a damn. She is flashy and out there, a true trendsetter. M.I.A.'s art reflects a lot on her style, which I love and adore about her. She is different. Mrs. (Annie) Leibowitz's style is more laid back and really typical but it's her style. All she needs is a Canon 400 Camera and a pair of jeans. Her work speaks for itself. Which works very well for her." -Rose Estelle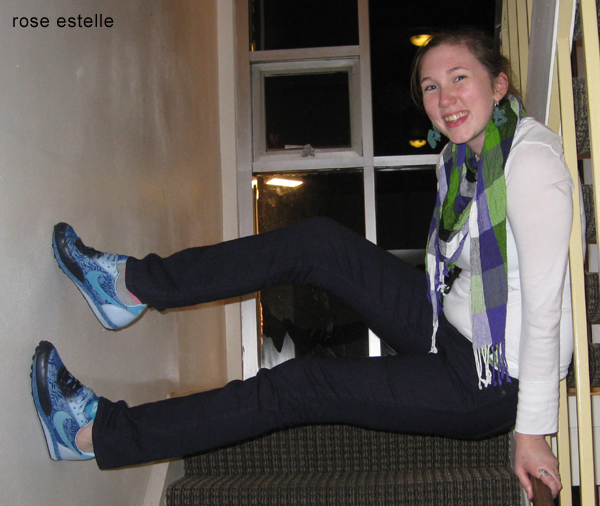 "I'm my own favorite, modestly speaking. I'm inspired by the culture behind the kicks. Music, poetry and the no-frills crush the game attitude."- BoomBoxBarbie
There you have it. Style, Sneakers, and Art are intrinsically connected, all of them descendants of that universal Momma Duke: Self-Expression. And for these fierce female artists, all wound together with that crush-the-game attitude. Don't Sleep on these Ladies!
Amanda Diva: www.amandadiva.com
Natalia Cappuccini: www.myspace.com/nataliacappuccini
Rose Estelle in action: http://www.youtube.com/watch?v=7Qjng6t9ThE
Boombox Barbie: http://www.flavorinyourear.blogspot.com/