Not Just a Passing Phase
by Saida Kendall
Many people think that for females, collecting sneakers is just a passing phase that they go through as a teen. The stereotype is that only young girls wear sneakers and mature women only wear heels. But for the "older" members of Female Sneaker Fiend, they prove otherwise. After interviewing several ladies - Nicole Poree-Zayas of Harlem (age 21), Precious of the East Village (age 24), DunkDiva of Brooklyn (age 25), Sneaker_Sandy of Sweden (age 27), Martica Menendez, aka SNKRGODDESS of Miami (age 36) and Lori Lobenstine of Boston (age 39) - I've seen that the passion for sneakers does not fade as you get older. As said by Sneaker_Sandy, "collecting sneakers preserves you". You can still catch these ladies chatting it up in the sneaker forums or staying connected mingling at the events.
One of the main reasons for this could be the fact that these women have been sneaker fiends since they were younger kids. As Lori says, "I've loved sneakers for longer than I can remember." Although she received only one pair a year back then, she cherished and wore them till they were beat.
Sneaker_Sandy, who skated as a kid, was "all about Airwalks, Etnies, Vans, and DCs" but her passion for sneakers eventually developed into strictly Nike. Martica has "been into sneakers since elementary school". The artistic DunkDiva became fascinated with sneakers during elementary school too. She "loved the fact that you could take an everyday necessity – footwear – and create so many color\shape combinations". The idea that your footwear could come in a vast variety of shapes and colors and change the look of an outfit is was attracted her. I too began coveting sneakers for this very same reason.
These ladies are so passionate about their sneakers that they consider occupations that would not interfere with their sneaker habit. Precious, the lovely mother of two, is able to kick up her feet in whatever she wants as the Head Moderator of the ever growing FSF forums. When she becomes a registered nurse after finishing school, her goal will be to find white Nikes to go with her work attire!
Sneaker_Sandy has declared herself as "the freshest dressed mailwoman" in Denmark. Locals can often see her sporting her Dunks and Air Max runners. She's fortunate to have an understanding occupation. Martica has a great occupation in regards to sneakers too. Being an employee of Niketown, wearing sneakers "works out in my favor because it's a part of my uniform". So she normally sports the latest releases while helping out customers.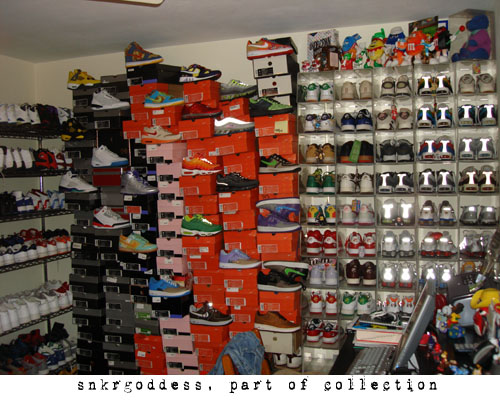 For Nicole on the other hand, when she worked at Abercrombie & Fitch, it was a requirement to wear flip flops which was a big problem for her. She stated this may have been one of the factors why she doesn't work there anymore! Being the defiant sneaker fiend she is, she would wear her sneakers at work until her manager requested her to change. But her coworkers always looked forward to the next day to see which sneakers she would wear.
As an assistant teacher, DunkDiva also has a crowd waiting to see what sneakers she'll be wearing next – her students. She is respected by her students because of her sneaker collection, and they often ask her where they can find them. Lori is the founder of FSF, a basketball coach, and a youth worker among other things. However, at one point she had aspirations to be an architect, but the idea of having to dress up everyday and not being able to wear sneakers daily made her less interested. Being a sneaker fiend has actually been beneficial to her position as a youth worker; it allows her to connect with her teens, both boys and girls, on another level.
These women have matured as individuals as well as sneaker fiends, allowing them to assess the slight changes that have occurred for them over the years. Being among the older female collectors, Lori remembers when "there was no such thing as camping out or release dates". The main thing that changed for her as she grew older was realizing that she could purchase more than one pair a year, allowing her collection to grow with the same styles she always loved.
When Precious was in high school, the price of a sneaker did not impact her purchase, but now as a mother she is watchful of the price tag. Sneaker_Sandy has noticed the price tag on sneakers as well – in the case that they're on the rise and most releases are Tier 0 releases. In her opinion, things have gotten crazier. When she started serious collecting in 1998, camping out did not occur—and is something she says she'll never do—but now it's a norm. But on the positive side, shoes have been easier for her to get through the connections she has made traveling.
When Martica was a teen, "the level of products, knowledge, and passion" did not compare to how it is for her presently. She has always been about "fresh kicks with the gear to match", but now she can spend the money that her parents wouldn't.
For DunkDiva, as she was growing up, people thought that she should be seeking out "girly" shoes instead of sneakers and has been told from time to time that she is "too old to be wearing sneakers". She views this as being sexist, which I agree. She questions, "why is it okay to see an older man wearing sneakers but when you see an older woman wearing sneakers, it's borderline funny? Why can't it be acceptable for a women to collect sneakers and not be considered ghetto or immature?" Regardless of what others say, for her "sneakers are not a fad, they are my lifestyle".
Nicole's outlook of the small culture of female sneaker fiends is interesting, funny, and truthful. We often run into the same girls since it a small culture of us – which is why she said, "It's like Hollywood". So true! She has had her fair share of fake females in our Hollywood-like circle but has learned from that. Nevertheless, on a positive note she has met a few whom she has created a lasting bond with. But her "collecting habits have changed several times" as she grew older. It went from the latest Jordans to limited\hype releases not even necessarily knowing if she liked the shoe, to finding her "own individuality", only buying what she truly likes. I can vouch for her that we've all been there. As we mature, so will our taste in the sneakers we buy.
As "older" women, they do not deny the fact that "girly" shoes exist in their lives. Although she would prefer "Air Maxes over wedges", Precious does love all types of shoes. DunkDiva loves being versatile, which leads to her love for "girly" shoes, calling them one of the best things on Earth to her. She happens to collect boots and stilettos alongside sneakers. Her love for fashion and being able to change her style with her footwear is still her main attraction. "Wearing skinny jeans and dunks one day and a pencil skirt and pumps" the next is a beautiful aspect of fashion to her. Someone who loves to get their "sexy on" as they get older is Nicole. Before, she "never even thought about womanly shoes", she even swore it wasn't her thing. But as we get older, our views change, as did hers.
Being a lover of fashion and variety like DunkDiva, she has been attracted to unique shoes and her heel collection is slowly growing. It currently doesn't compare to the amount of sneakers she has, but that may change over time. She stated that it's "going to be just as serious soon" in comparison to her sneakers.
| | |
| --- | --- |
| For most of us ladies, it's about having a balance between our love of "masculine" sneakers and "girly" heels. But for Lori, she has never liked and probably never will like heels. She claims when she gets married she's "going to make all the bridesmaids wear sneakers". This is something I would love to see! | |
One thing is for sure, they only see the female sneaker collecting culture growing. It is exciting to them to see other fellow females with heat since we're considered to be the minority. I have noted, along with DunkDiva, Martica and Nicole, that Nike (along with some other vendors) are starting to embrace us as fiends and are supplying us with more shoes in our size which will only get better in time. Lori feels our peak has yet to come. Sneaker_Sandy only hopes that the idea that you're a tomboy or a lesbian if you collect sneakers fades with time.
Furthermore, the overall census with these ladies is that their passion for sneakers will never fade. When asked if they honestly see themselves outgrowing sneakers, the answer was an affirmative "NO". Martica sees herself as "a sneaker addict for life" and says "sneakers are not just for fashion, they're also for comfort and support" because our feet are important. Lori for sure won't be caught wearing those "awful nursing sneakers" when she gets older! Their style may evolve but their attire will always include sneakers. Nicole's advice for other female sneaker fiends growing up is to "buy what you like, don't concern yourself with hype". Precious said that "your style should be a reflection of you, not the popular girls." We must remember that we're individuals.
To conclude, I think DunkDiva had the best comment in regards to older female sneaker fiends: "When someone has a passion for something, we shouldn't judge them about whether or not that passion is 'relevant' based on their age. We are taught from young to respect people for who they are. That's what makes individuality and should not be forgotten". On that note, to all my 21 and older female sneaker fiends, keep rocking it, don't stop it.
Editor's Note--Sorry we don't have any pictures of DunkDiva!