Thirsty for Kicks
First there were Pastry Kicks, now there are Milkshake Kicks. Females are definitely thirstin' for sneakers, but will they go for all this sugar? Here's what multitalented co-founder Courtney Carreras has to say.
by Lori Lobenstine

In the beginning...
Can you remember the first kicks that turned your head?
The first kicks that turned my head were the Nike Leather Bruins and the Puma Suede Classics. I remember in 5th grade Paul Serra and Erica Kolodny wore Puma everyday. I finally got them a few years later…and lucky for me they were still classic. My mother didn't have the ends to keep me and my sister in name brand everyday. But she did get me the Nike Court Bruins and when the rubber on the side started to peel off, my very-absent father tried to convince me to glue the side. My mom was not with that, and came through with a new pair- white with a red swoosh.
Did anyone in particular influence your love for kicks?
My older cousins gave me their hand-me-downs, so there were always treats in the bag. One time they gave me a pair of un-worn, no-label high top off-white suede joints. I customized them with markers and wore them with pride.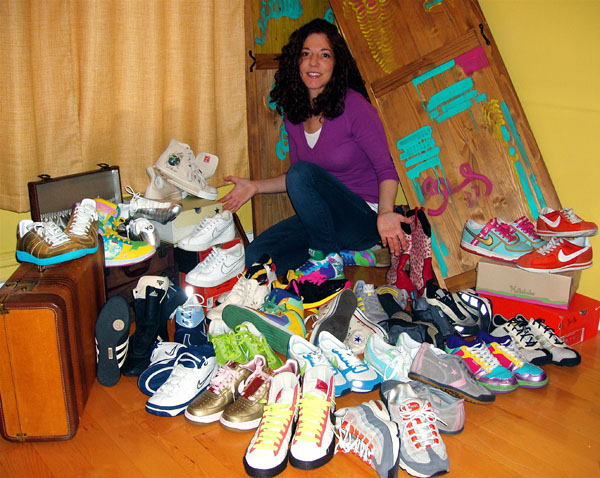 What's your collection like now?
I have about 40 plus in my personal collection; if I include the Milkshake collections…I am pushing 120 !!! My style is crisp… I like a good fit, and I am never afraid to switch up the factory original laces and add colored or fat laces.
What do your kicks say about you?
Footwear says so much about a person, period. My foot game statement of kicks says, "Clean, unique, on-the-go with a confident bounce !!!". Curvel, my business partner in Milkshake, calls me "Biddy Bop" !!!
You seem to be a woman with many skills and interests. Do you also have other projects going on?
I am a free-spirit and I see a creative angle to almost everything. I do not see a box to fit into…I see many boxes. Curvel and I also have a TV/Film production company and we just finished production on a 5 year-long documentary/feature called "Brooklyn Girls Fight Club". We are also working on producing a stage play written by Gregor Gibson called "Freedom", about the life and journey of Harriet Tubman. I will be writing and publishing other books in the near future, but for now I got kicks on my mind!
Courtney & Milkshake Kicks
What's unique about Milkshake Kicks?
Milkshake is unique in the sense that we exist for every girl…short, tall, fat, skinny, freckle face, nerdy, athletic, musical, shy, flirty…whatever…Milkshake represents and encourages you to be yourself and find what makes you Shake. Our entire launch campaign revolves around the question of, "What Makes You Shake?"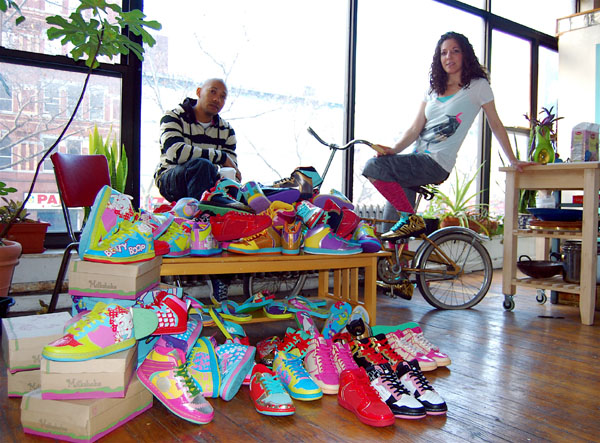 What inspired you to co-found a women's sneaker line?
Me and my business partner, Curvel Baptiste felt strongly about seeing sneaker companies bastardizing their lines and selling them under the pretense of it being a female sneaker. The toe box and the last were built for men and they'd slap pink on it and sell it to the ladies. We were in the world of Video/TV production and stylists were always searching for kicks that had flavor to fit the girls. We saw a hole in the market and wanted to service the space with Milkshake.
What background do you bring to starting a sneaker company?
My overall love for creating something from nothing is what drives me. I am a "Jill" of all trades, and when starting any business from the ground up you have to wear many hats and learn as you go. Many, many years ago my cousin Linda would buy white canvas skips and customize them with acrylic paints, and she would let me help her sell them at the 14th Street flea market. It was probably a subliminal start to what I am doing now.
What's been the hardest part of starting a sneaker company from scratch?
Starting it from scratch! We literally started Milkshake with an idea and a belief that it could be done. We don't have any big company or investors backing us. We are on the coattails of no one, and although that is the hardest part, it is also the most rewarding as far as seeing the dream come to life. [Editor's Note: You gotta give Milkshake credit here cuz they're going against some BIG names over at Pastry!]
What can customers expect for your upcoming line?
We now hold the exclusive license for Betty Boop sneakers and flips. So there will be a series from the Milkshake/Betty Boop collaboration. We are also launching a kids' line for Spring 09 and you will definitely see art on every shoe.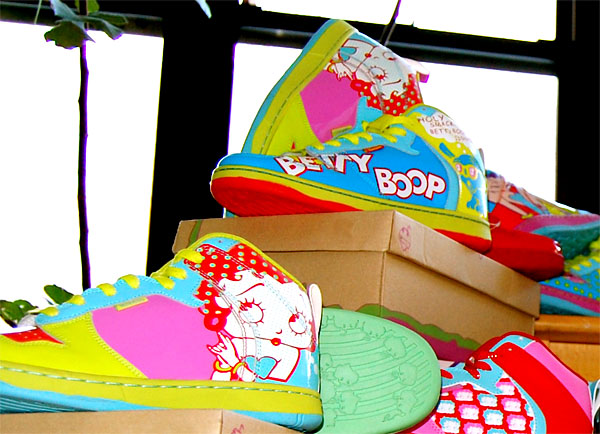 What advice would you give anyone thinking of starting a sneaker company?
No way. There is enough competition out there! Go start another kind of company!
What else do you want female sneaker fiends to know?
I think female sneaker fiends need to know that the diversity within the group of fiends is beautiful and not to knock anyone in the circle who may not be as versed in sneaker history or trends. To me the female sneaker fiend is about having the freedom to be yourself, but not by yourself. I mean, come-on…can't we all fiend together!?