Getting Into the Sneaker Industry--Early!
by Lori Lobenstine
Think you're too young to get your well-clad foot in the door of the sneaker industry? Think again. Here are two young women who started making their moves in high school, moves that helped land them just where they want to be. Meet Cheresse Thornhill, 22, Footwear Designer at Jordan Brand / Nike, and Christiana DiMattesa, 25, Project Manager of Lady Footlocker's Marketing Department, and hear how they got in so early and what it's been like so far…
What is your role right now? How do you like it?
Cheresse:


Well I have been fortunate enough to have had the opportunity to design products for Jordan as well as Nike. Designing for Jordan has been a great learning experience. The Jordan Brand has such a great heritage and a clear vision of style that only this brand owns. This helps promote focus within the design process. Life as a Footwear Designer, for me, is a constant search for inspirations and innovations. As a designer, work isn't just 9-5 or five days a week, it's also evenings and weekends.


Christiana:


My position deals with managing the production and distribution of all the signs and marketing material for our Lady Foot Locker stores and events. I really love my position and being part of the marketing team. I've always loved being part of a team or organization because the more brains you put together, the more you can accomplish.
Getting There Part 1: Love for Kicks
Christiana:
My love for sneakers started when I was in elementary school, about the same time as my love for sports started. In fourth grade my father told me that he would take me to get basketball shoes, but I could only spend $50. As a 10 year old, I felt like I had just won the lottery with a $50 budget! I can so vividly remember walking into one of the old Lady Foot Locker stores where the employees wore green and white striped shirts. When I spotted those black Nike Flights on the shoe wall, it was almost as if there were no other shoes on that wall! I had to have them. The only problem was that they were $54.99.....$5 over my budget. Since my dad loved basketball so much, he let me get them, but I couldn't tell my mother! It was our little secret.
I think I realized that I crossed over to the world of sneaker heads when the shoes on my feet became more important to me that the sport I was playing.
Cheresse:
Fifth grade was when I got hooked. The first shoes at that time that caught my eyes where the AJ X and the Nike Air Shake Ndestrukt, worn by Dennis Rodman. I realized I loved sneakers when I began walking with my head down checking out what everyone had on their feet. When I crossed over into junior high, Nike dropped the Air Zoom Flight (worn by Jason Kidd); it was so unique and looked like a bug. So that's when the fascination began.
Getting There Part 2: Into the Industry
Cheresse:
I went to an art high school at home in Miami, the Design and Architecture Senior High (DASH), where I majored in Product Design. I had my first taste of designing footwear through a class project my junior year in high school. However it didn't become a real career option until I got to college. I decided to attend CCS (College for Creative Studies) for their history of acquiring talented designers, pushing them to grow and seek out opportunities. I majored in Product Design at CCS and began staking out Nike my sophomore year, inspired by the male Footwear Designers from CCS that came before me. So the summer after my junior year I landed an internship at Nike with Skateboarding. Interning with SB was one of the greatest experiences of my life. I learned so much about Nike as a company and design in general. So after my internship came to a close, I went back to Detroit to finish up my senior year with intentions of returning to Nike. I reworked my portfolio for the millionth time and flew back out to Beaverton for Spring Break to interview last year. Thanks to a lot of prayer and preparation I left Beaverton with an offer, and the rest is history.
Christiana:
My career with Foot Locker Inc. started when I was 15. Working in a store throughout high school gave me a lot of structure as a teenager, because my day consisted of going to school, then to whatever sports practice I had, then to the store to close up for the night. I became a key holder at Lady Foot Locker and was given a lot of responsibility in the store at a young age. I learned a lot and always wore my stripes with pride. I never minded going to work, because I was surrounded by great people and sneakers. Of course having the newest and coolest sneakers all the time was a great perk!
I scored an interview at Foot Locker Headquarters right out of college, and when I walked in, I knew that is where I wanted to be. Well, the road hit a dead end when I was not hired for the position. I continued to send my resume on a regular basis and got a job in insurance to fill the void. I worked in insurance for a year, and I was getting very down because I really felt that I was selling myself short. I found out that Lady Foot Locker was going to be at a job fair in New York City, and I called out sick from my job so I could go! When I got there, I made a beeline straight for that Lady Foot Locker table, scored another interview and the rest is history. It turns out that being relentless and pursuing a company enough can actually pay off.
Bringing Passion to Footwear: An Athlete and an Artist
Christiana, Athlete:
In high school, I played basketball, soccer and volleyball as well as AAU basketball, Washington DC and European travel soccer. That was originally how I got into wanting to work at a sneaker store. And then when I would learn about good sneakers, I could teach my teammates too. Being an athlete was very helpful at the store, also, because being able to tell your customer from experience what works is very important. When I worked in Lady Footlocker stores, my favorite part was really learning about the technology of the shoes. I always looked forward to a woman runner coming in to the store and telling me that she ran x number of miles a week, but had an injury or specific problems and needs in a shoe. I was proud to help these women get the most out of a shoe.

I still love competition, and I think it's very healthy to have a competitive nature. When I worked in the store, my manager wanted to make sure we new the technology behind our products, so he would hold training sessions with free giveaways and contests. Being the competitor that I am, I would get online and study all I could about the companies, so I could answer all the questions and win stuff! The mistake I made was answering all the questions in the beginning of the session, because they always waited until that last question to give away a pair of shoes. Without fail, they always banned me from answering the last question because I had to give someone else the opportunity to answer. I never got to win the shoes, but I sure had a lot of key chains, pens, and towels!
Cheresse, Artist:
Footwear design for me became the marriage of two loves. Before I became a sneaker fiend, I was born an artist. I developed through various art programs throughout junior high and high school, but never knew footwear design was an option [until college]. My style is a culmination of all the things I've experienced in my life thus far, in addition to my heritage and environment. I grew up in Miami, which is a cultural melting pot, so that definitely influenced my design eye. Growing up taking traditional art classes and studying artists like Vincent Van Gogh and Michelangelo have also had an impact. Attending an art college in Detroit for four years and interning with Nike Skateboarding have all played a role, especially being inspired by all the great designers I work with everyday, who have taught me so much.
How does being a female impact your work?
Cheresse:
Being a young woman does allow me to bring a different perspective to design and would come in handy when designing footwear for women. However being a great designer really has nothing to do with gender, it comes down to heavily researching your consumer—male, female, child or adult—and using your imagination. As a designer I would not want to be limited to designing footwear just for women only. The majority of the products I work on are for men.
Christiana:
Being a young woman is extremely beneficial to me, since I work at Lady Foot Locker and fit our primary customer profile. I buy sneakers and apparel for both function and fashion, and I'm in the age group of our target customer. It also makes the job more enjoyable when you are working for a company that sells products that you love and enjoy buying.
What made you stand out from the crowd and get hired?
Christiana:
I think the thing that made me stand out when I interviewed for the marketing position at Lady Foot Locker was the fact that I had a lot of experience in the store. In marketing, we deal a lot with the field and try to help the needs of the presentation of the store. It was very helpful to me that I was able to get on the phone with a store employee and help them, because I used to be there and understood their needs.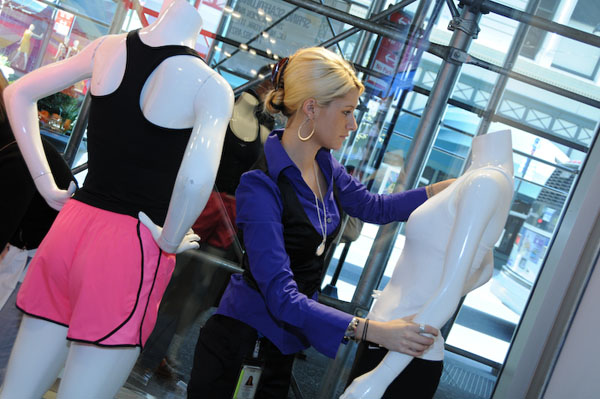 Cheresse:
As a designer what's more important than artistic ability is the ability to think. Creating new concepts and stories that connect with a specific consumer, touching them on a personal level, and then being able to carry that concept through using supporting color and material treatments. Design is definitely more than just a beautiful sketch. Anyone who exhibits that ability will surely stand out.
Advice for girls who want to get into the industry:
Cheresse:
Those who want to break into the footwear industry should know that anything you put your heart and soul into is possible. Believe in yourself and work hard. Sketch constantly and perfect your skills and abilities. Educate yourself on the industry and don't be afraid to ask for help. Design schools are definitely beneficial and will provide all the training needed to compete with other upcoming designers. Set up specific goals and a detailed plan to reach them.
Christiana:
We have over 500 Lady Foot Locker stores right now, so I would tell girls that they should visit a store to pick up an application if they are seriously interested in a job in one of our stores. If they are looking for a corporate position, then experience and knowledge are very important. I find my past experience in a store to be extremely valuable to me in my current position in the NY office. Foot Locker Inc. also hires interns at our NY office every summer, [see bottom of article for more info]. Interning is a great way to get experience and prove yourself with a company. If I had known about internships in college, I would have jumped at that! Just recently, I got promoted and our former intern got promoted into my position.
What else do you want female sneaker fiends to know?
Christiana:
I have two things to say about women, men and sneakers. First, I never really considered myself a sneakerhead because collecting sneakers was never a hobby or way of life of mine. To me, sneakers were about the performance and the technology and how they are more than just something we throw on our feet to match our shirt. After talking with Lori, I realized that I may not be a sneakerhead, but I am definitely a female sneaker fiend. She created this great community where it's about the love for the sneaker, whether it be for fashion or function, and women having a place in that community. So I say it's all about two kinds of people: sneaker people, and everyone else!
Second, from working in stores I've learned that many male customers would come in, not so much in search of info on technology, but rather wanting to know when the new Jordans were releasing. It was always funny to me how women are so much more into function and men seemed to be more into the fashion part of it!
Cheresse:
I feel it's important to find the passion in your life. If someone is passionate about sneakers and wants to become a footwear designer go for it, JUST DO IT!! It's important to be open minded and in tune with life, nature, and the environment we exist in. Life is where great ideas come from.
So there you have it: Two great women's stories and tips on breaking into different aspects of the sneaker industry. Darn, think where we'd be now if I'd started this website when I was in high school! We'd be running the place. =)
Editor's Notes:
If you know any women whose stories could be added to this article, please let us know about them! You can reach us at submissions@femalesneakerfiend.com.
If you'd like more information about being an intern at Lady Footlocker, here are two routes:

1. Send a resume directly to:
Lady Foot Locker
Attn: Human Resources
112 West 34th Street - 2nd Floor
New York, NY 10120
**All interns must have completed their junior year of college to apply for an internship
**These are limited internships so they run through the summer months

2. Apply through BRAG (Black Retail Action Group) http://www.bragusa.org/cdc.html

For Nike internships, go to nikebiz.com