Female Sneaker Addict
Kim Dankoor reps for the females and supports Leyp's creative collective in Holland. We caught up with her on her recent visit to NYC...
by Lori Lobenstine
Tell us about yourself…
My name is Kim Dankoor. I am 26 year old. My parents are from Surinam, but I was born in the Netherlands. I grew up in Arnhem, that's a small city in Holland. I moved to the big city 'Amsterdam' when I was 19 years old to study media and journalism.

What got you into kicks?
I always wore sneakers when I was younger, like 14 – 15 years old. At that age I also watched basketball games with my father. The games started at 12:30. That was the only reason when I was allowed to go to bed late! When I watched the games I was of course fascinated about the players, but also about the whole basketball sneaker scene. So from that point on I knew I wanted to wear basketball sneakers.
What's the sneaker scene like in Holland?
The sneaker scene in Holland is flourishing. I think that there are more people involved with sneakers than ever before. The question is of course which people are real and which ones are just in it for the hype… Nonetheless there are a lot of sneaker events, and it's also easier for females to find sneakers. You have more and more stores who acknowledge that there are female sneakerheads, so the stores buy more sneakers in smaller sizes. The atmosphere when a crew of female sneaker fiends gets together in Holland will be very warm. There isn't a female sneaker collective in Holland, so there will be a lot of people who will want to meet you.
Which is your favourite pair of all time?
Air Force 180 by far! It's a shame that it's hard to get them in my size. I now have three pair, but I won't stop looking for them! The search continues…
Kim's 180s
Tell us about Leyp, the collective that you're involved with.
Leyp is a creative collective and it is involved with graphic design and illustrations. The lead guys are Fernon, Darrin and Nick. Leyp is famous for customizing objects such as sneakers, scooters, bikes, bags, chairs…you name it! They have collaborated with numerous brands such as: adidas, Converse, Quick, Edding and Bacardi. Last year Leyp customized a sneaker for Jill Scott. She was so happy, she changed her on-stage-outfit to match the sneakers.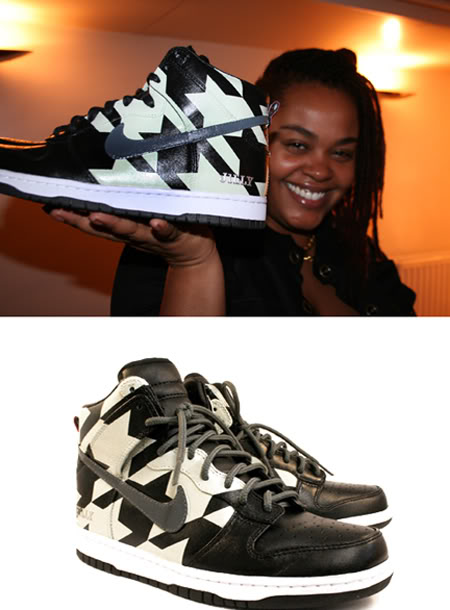 Jill Scott and her Leyp customs
What about Leyp's famous Sneaker Addicts events?
Leyp also organizes 'Leyp Sneaker Addicts' which is an event where a huge collection of custom-sneakers by several artists, illustrators and graphic designers are on display, while people are partying to the tunes of our dj's. It started in Amsterdam, but now there is a European tour where designers from several countries customize sneakers. The latest edition of Sneaker Addicts was held in Sweden. Leyp really hopes to have a Sneaker Addicts in New York one day. Leyp asked me if I could make internet and television items about their events. I made several items about the Sneaker Addicts events. So in that way I help them with their marketing. Next to that I interview creative people, like up and coming fashion designers or 'obsessive' sneakerheads, for their website.
Kim at work at Leyp's Sneaker Addict event...check her smooth interview skills in English and Dutch. (She can also speak Surinamese (Sranang tongo) and some French!) Also check the numerous killer Leyp customs...
What do you think sets sneakerheads apart from other females?
In my opinion female sneakerheads are 'tough' girls. The sneaker culture is still a man dominate culture. I noticed that boys are still impressed when a girl knows her sneakers, especially in Holland. This shows that it is still 'a man's world'. And as I said before, in Holland there isn't a female sneakerheads collective (yet) who are involved in sneaker activities. I also think that female sneakerheads are very confident, because they know that they can be just as feminine and sexy with a pair of sneakers on as in high heels.
Kim proving her point with her Charles Barkley "Alpha Force" AF1s and some NYC female sneakerheads
Speaking of sneakerheads, what would you like to get your hands on next?
I am an old skool girl. I want another pair of Bo Jacksons! I want the all white ones. Next to that I still want the Jordan 3 "Do the Right Thing" edition. I am looking for those for two years now. I was hoping to find them in New York, but I heard that they didn't make a size 6 or 7. I was really disappointed. The smallest size is a 8.5; I must admit that I am seriously considering those hahahaha… Just to have them!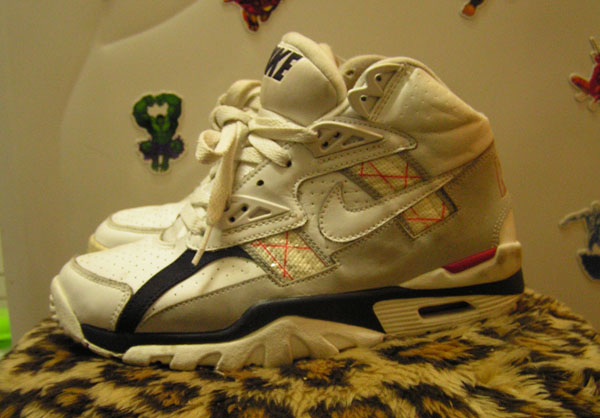 What else do you want to say about Leyp or being a female sneaker fiend?
It would be dope when Female Sneaker Fiend and Leyp can make a line of tees together. And in that way more females in Holland can get to know Female Sneaker Fiend. There aren't enough female sneakerheads in Holland!
In the meantime, check the Leyp site or the Leyp youtube channel.