Mama Knows Best!
From head to toe (caps to kicks) Mama speaks out about how sneakers influence her style and business. Interview with Gabriella Davi-Khorasanee.
by Shanan Campanaro
I met Gabriella when she was sponsoring our Cookin' Up Customs event in NYC last year by generously donating an array of her most wickedest t-shirts. Mama Clothing has been one of my favorite sneaker-influenced brands ever since. I bumped into Mama herself, Gabriella Davi-Khorasanee at Magic this year, and asked her to tell me more about her brand and her love for kicks…
Can you give me a quick who, what , when, where , and why, for the Mama brand?
Who: Gabriella Adriana Francesca Davi-Khorasanee
What: Mama, One Hit Wonder, M.I.S.S. Crew, Mama's Beats and Bruises.
When: 2004
Where: San Francisco, California
Why: I saw a hole in the market for true ladies street couture. Don't get me wrong, there was X-Girl, Hysteric Glamour, Milkfed or other brands that catered to women as a side business to their men's line, but I really didn't see a women's brand that was based on more then just clothes. I wanted something a little more feminine, empowering and positive.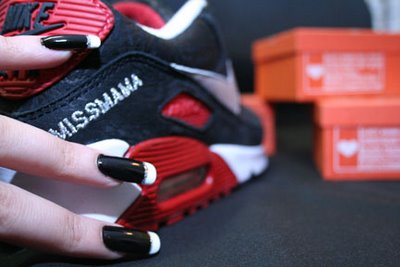 How has sneaker culture influenced the clothes you make?
Sneaker culture has definitely had an influence on our design and our products. First and foremost, everything we make is designed to be worn with sneakers – there are definitely pieces that can be dressed up, but at the end of the day they will all look fly with the right pair of kicks. Then there's the colorways – sneaker design goes in cycles like anything else, and there are always "hot" colors. For example, our C.R.E.A.M. tee did really well for us, so we re-issued it in a light grey/lime green colorway because we knew Nike was going to drop a bunch of shoes with those colors around the same time.
Sneaker culture has also been the impetus for some of the special projects we've done. Our Juicy Mama Nail Paint project grew out of the fact that I like to match my manicure to my kicks, and I was having a hard time finding colors that matched my shoes. Most of the nail polish on the market is in the red, pink, orange and purple family. So I teamed up with Juicy Cosmetics to produce custom color nail polish. Everything from the colors we chose, to the packaging, to the promotional photos were influenced by sneaker culture.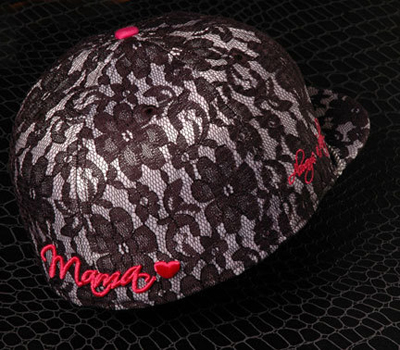 The kicks game also had a part in the design of the Lolita (lace) New Era. I have a pair of vintage British Knights Orchids that are white high-tops with black lace. Lace was a big part of our "La Dolce Vita" (The Sweet Life) collection already, as I was using it on some of my cut & sew pieces like sweatshirts, tops and a trench coat. Seeing the lace on the BKs made me realize it wasn't just for apparel, but that it also translated well onto accessories . . . and the rest is history!
What is your favorite all time sneaker?
Oh, jeez this is so hard. My favorite shoe of all time hasn't been made yet, but I'll let you know when I finish designing it. Haha!! As far as shoes that have been made, I don't think I could pick just one – it would betray my love for all of the others. I will list a few though . . . British Knights Orchids, LA Gears (any of the oldies),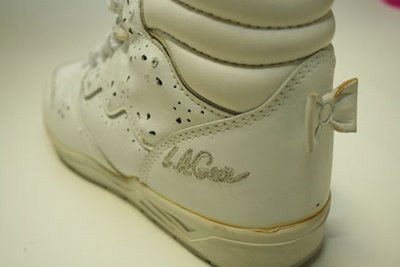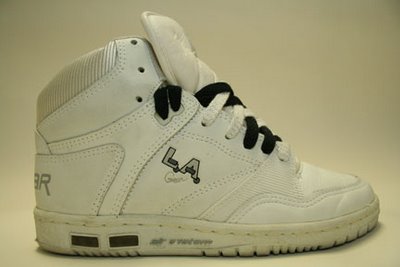 Reebok Freestyle, Air Max 97s (my 98 version with aqua blue), my faux Louis Vuitton AF1s, Adidas Stan Smiths (white/Kelly green), Supreme Blazers (red), and SF Clerks Colin Miller Dunk Hi.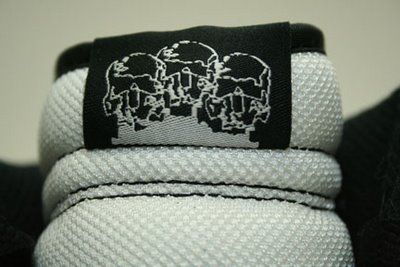 Anything you would like to say to all the female sneaker fiends out there??
Keep your shoes clean and don't sleep on vintage – it's not just for clothes - there are a lot of hot shoes out there!!