Baked Goods for Your Feet!
Recently FSF got to catch up with the celebrity chefs behind Pastry Kicks.
by Lori Lobenstine
Two of my biggest passions are sneakers and cookies, so you know I was excited to hear that Expressions sneaker store of Boston was hosting a meet and greet with the "celebrity chefs" behind the up and coming Pastry Kicks sneaker line. What an idea! Sneakers inspired by baked goods. I love it! It makes me hungry just to think about it.
I'm also proud to say, Boston turned out with over two hours of autograph seekers, even if many were more excited to meet Vanessa and Angela Simmons than to buy sneakers. (After hearing that buyers got to go to the front of the line, one girl said she might buy some sneakers and return them later!)
But back to the sneakers, and the inspiration. First, you gotta see the deliciously-inspired displays, courtesy of store manager Irene.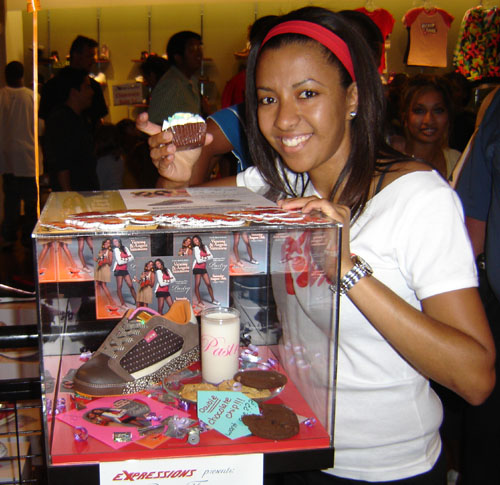 Then the crowds.
And the dessert kicks themselves. (Complete with pastry boxes.)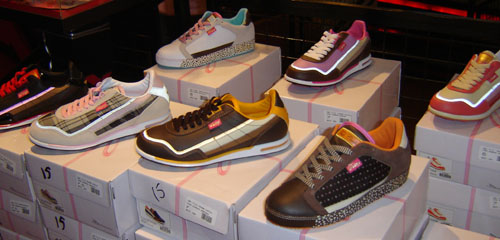 And then you get to sit down with Vanessa and Angela, and find out how this all came to be:
What made you decide to go into sneakers?
Vanessa—Well, dad had Run Athletics. We thought, "What can we do?" And we came up with something different; we wanted something fun.
Angela—And we have so many ideas. We have so much fun stuff coming out, like the sneakers on Vanessa's feet. They're not out yet, they're the Chocolate Kisses.
Vanessa—We have a lot of different ideas. We wanted to do something dedicated to women. There isn't a lot out there for women, and we wanted to do something for all women.
Angela—We wanted to bring something different, something fun.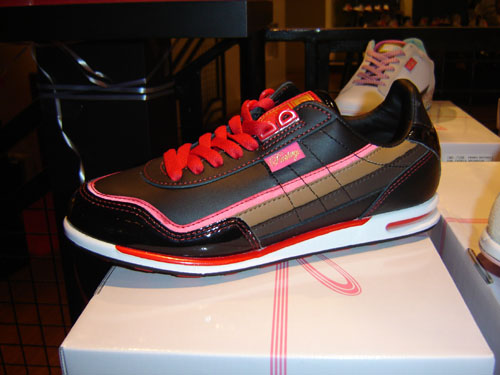 But when you grew up, were you into sneakers?
Vanessa—I wasn't, but she was! But now that we're doing sneakers, it's changed my perspective. Now I notice sneakers all the time.
Angela—I was, I definitely was.
What were your favorites?
Angela—Ummm, you know…whatever was the hottest thing, really. Mainly Jordans. Dunks, well, that's more now then back then. Saucony's…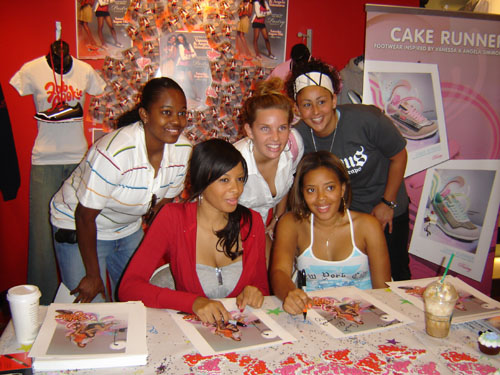 Talk about your sneaker designs. The first line was a new silhouette, and this second line, Fab Cookie, is a more familiar Run Athletics shoe.
Vanessa—We made up the first silhouette. We wanted to do something original.
Angela—Then we thought about how cute the Arthur Ashe [Run Athletic shoe] was.
Vanessa—And how cute it would look small. We thought it would be real cute. It took a long time to talk him [dad] into letting us use the Arthur Ashe, since that was his project.
What did you learn from your first line that you'll use in future lines?
Vanessa—Well, everyone wasn't into all the colors, so we toned it down, went with some neutral colors. We have another one coming out with just plain colors on the Fab Cookies. We really take advice from females.
Angela—We learned a lot. We made them from scratch, ourselves.
Vanessa—We made them from scratch, but we still have to prove ourselves.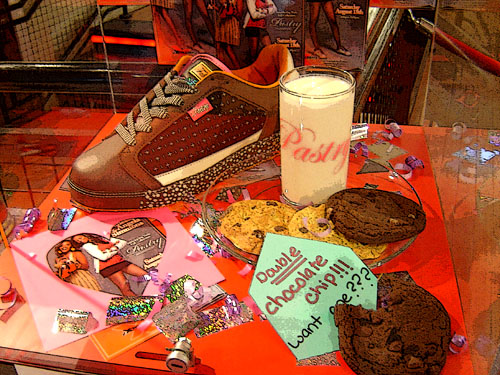 What do we have to look forward to?
Angela—We have so many more ideas! You're going to see pies, marshmallow sundaes…
Vanessa—The Fab Cookie mid-top chocolate kisses [on her feet, out this winter, see below], and the peanut butters.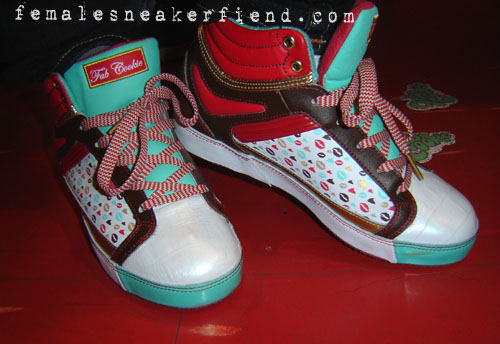 So, let's talk baked goods. How did you get inspired by baked goods? Do you like to bake?
Vanessa—She does!
Angela—I bake a certain kind of cake, Confetti Cake. I bake them in cupcakes too.
Vanessa—I just bake cookies, mostly chocolate chip, white chocolate chip. I love white chocolate chip!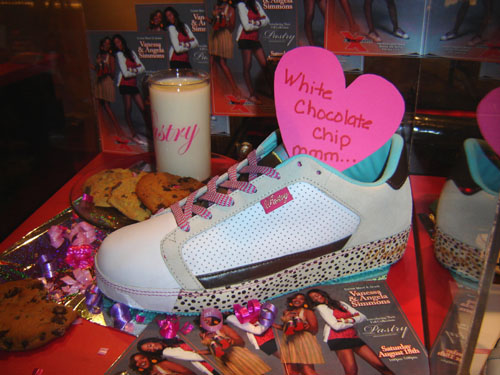 If you had to pick, rice krispie square or lemon square?
Angela—Rice krispie.
Vanessa—Lemon square.
Angela—You just said that because I said the other one!
Chocolate cake—what kind of frosting?
Angela—Vanilla frosting… right? (looks to her sister) No strawberry…no, vanilla.
Vanessa—Buttercream.
Angela—ewww.
Brownie or chocolate chip cookie?
In unison—Chocolate chip cookie!
What else do you want female sneaker fiends to know?
Vanessa—Keep watching out for us. And go to pastrykicks.com and tell us what you want! Send us comments.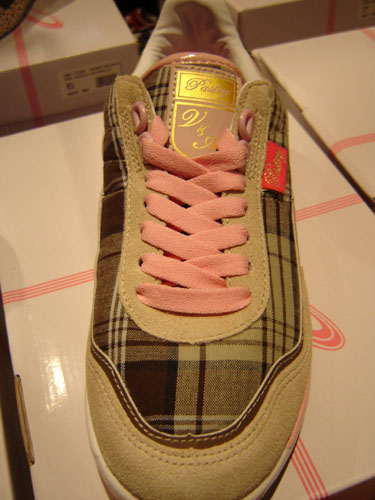 What would you consider success for you and Pastry Kicks?
Angela—People liking them!
Vanessa—Going down the street and seeing someone wearing them. It's not money, not fame, but just being happy doing what I'm doing.
So that's the scoop, right from the pastry chefs. And, I have to say, I was caught up in the good vibes. Between Irene's homemade displays, and Vanessa and Angela's genuine enthusiasm and earnest interest in getting feedback from females, I couldn't resist. The current sneakers are a bit too girly for me, but I'm keeping my eye on the line. Those midtops do look interesting…soon I could be asking for seconds on pie!