RandumbMiami: Reppin the Ladies So-Flo Style
Yarelis "Relz" Cabrera is one half of the new blog, RandumbMiami. Together with co-founder Chef, RandumbMiami is bringing a street culture vision to the world. We chat to Relz about kicks, reppin the ladies, and making Magic. As they say, "Ladies Stay Up, Fellas Keep Up!"
By Mickey Keenan.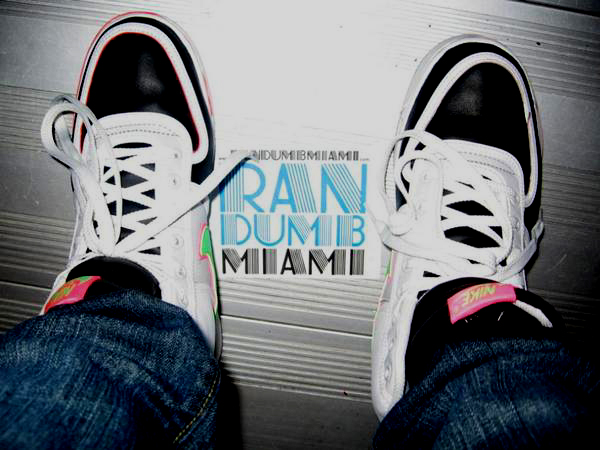 What was the inspiration behind Randumbmiami?
Really our inspiration basically comes from our daily lives and the struggles that we face being females in this culture. It's only been recently that all the amazing women in the industry have been getting props for their talent in street wear and sneaker design. We want to make sure that our girls don't get lost while looking for the things we all fiend for. It shouldn't be so hard. We want to be that central spot (or at least one of them) for all your needs. Plus, Chef and I are involved in so many random things and we like to share that with everyone. The dumb part of randumb just comes from how ridiculous it is that women have been slept on for this long.
What are your and (co-founder) Chef's goals for RNDM?

Aw man, we have so many plans and things we would love to accomplish. Our main goal right now is to just get the store up and running. We're so close to that primary goal. After that we want to basically be THAT PLACE. That place that first pops into your head when you think about getting information on all things related to women (and men) in our culture and the first place you go when you got money to blow. We also want to make sure we give back to this culture we love so much. We're already involved in community projects and we hope to be as involved with them, if not more, in the future.

What was your first Magic Show like? What did it accomplish for RNDM?

MAGIC was amazing. S.L.A.T.E. was amazing. Vegas was amazing. Every little tidbit of the experience was so exciting for us. We sent out emails beforehand and we actually got to meet up and network with those people who got back to us. They were so great in giving us advice and just hanging out in general. We got to conduct some interviews and get a sneak peek at fall, winter and even some spring drops. Randumb picked up some really awesome lines and we can't wait to unveil the products to you guys!
Getting back to you and kicks, when did you start loving sneakers?
When didn't I would probably be the question. I didn't start buying them until after high school when I had my own job and my own money. My mom always had the theory that sneakers that were over 40 dollars weren't worth buying. I always had a love for them though. I grew up watching sports with my dad and I always admired the shoes on every athlete that I saw: Cleats, basketball shoes, running shoes... Everything! I would go into the store and see the sneakers I saw on TV on some of my favorite players and I'd be like "Whoa... I can wear them too?" It was one of the things I loved as a kid and now get to relish in as an adult.
What do your sneakers say about you?

They say that I'm a simple girl. I don't go for the flash in the pan sneakers. I go for sneakers that have a meaning, a purpose. And although I might have a few recognizable sneakers in my collection, for the most part my love for them comes from a different source than popular names or collaborations. The love that comes from knowing you're wearing a piece of art on your feet and that you are part of a culture like no other. One that blurs all the lines of ethnicity, gender, sexual preference and age.

How do you rock a pair?

It depends on the sneaker and the occasion. I can dress them up or I can dress them down. I usually switch out my laces to make the sneaker pop more. Sometimes I wear them as they came. Sneakers are usually the accent piece of my outfit.

Do you have a favourite pair?

It's a tie between my Creative Recreation Chainlink Dicoco Hi's & my Nike Gibson SB. If I had to choose it would be my Chainlink Dicoco's because I've had them the longest and they have a soft spot in my heart.

Buying sneakers: Online/Ebay/Shops/Boutique- what do you prefer?

I always prefer buying in store, simply because I don't have to pay for shipping. Unfortunately, for a lot of the really ill sneakers, you can't find them in boutique shops. Not in small sizes anyway. That's where my online shopping begins!
What do you think about the whole issue of women vs. men's kicks?
I don't really think there is an issue per say. I mean lots of dudes hate on or look down on girls who collect because they have this caveman mentality that they are better at everything. As long as my ladies who are in the game know that their love is tried and true, what these boys think doesn't really matter. I personally know ladies who have more heat than any 3 dudes combined. I also know dudes who have mad heat. It depends on your perspective on things. I don't think there should be any men vs. women competition in sneakers. It should all be love. But the majority of dudes don't feel the same...
Do you think it is different being a female sneakerhead? How so? What are the challenges?
Yeah I would say it's a little different. You always get second guessed by people in the culture because they feel you're into it for other reasons (for example, boyfriends into sneakers, following a trend, etc). A girl walking down the street in a pair of sneakers is sometimes looked down upon by older people because they feel she should have a nice pair of sandals or heels on. It's a dated mentality that most people have unfortunately, and although women in sneakers have come a long way, there will always be the 'naysayers'. It doesn't really present a challenge for me for the most part. I wear my sneakers regardless of people's opinion. I always will.
I hear you're a member of the FSF SoFlo chapter. What's that been like? How do y'all rep for the ladies down there?
Yes yes, FSF South Florida in the building! Ever since we all started getting together in January it's been great. It's awesome to be able to hang out with these amazing ladies and we're all connected in a lot of different ways. We threw an ill event in the spring called "Heart & Sole" and we generated a lot of buzz for FSF and our chapter. We love being able to represent the FemaleSneakerFiends all over the world through our chapter and we hope to keep representing in the future.
Why do you go on forums like Female Sneaker Fiend or Sneakerfreaker?
It's nice to have a place where you can talk about and share some of your experiences with people that have the same love for something as you. Sneakers aren't just accessories, but they're a part of a lifestyle. Girls who are sneaker enthusiasts usually share lots of other things in common. It's nice to come into contact with people like that. Plus it's a way to make friends all over. For the most part, you end up having an appreciation for the girls who are on the site and relationships are born. I never thought I'd be interacting so much with people who are on the other side of the world. It feels good.