It's a Bird, It's a plane. Nah, It's a Female Sneaker Fiend!
Artists are the new Super-Heroes! They have the ability to save the world with their extraordinary talents. They have super cool aliases like El Eagle, Vocab, and BoomBoxBarbie! And, of course, they flaunt the illest costumes and kicks. What's that? You aren't convinced? You think "A hero ain't nothing but a sandwich"? Well, let me prove otherwise by introducing you to one helluva example: Va$htie Kola, aka Downtown's $weetheart.
by Janine Simon
Va$htie, aka Downtown's $weetheart.

Super-Hero Abilities: Directing, Designing, Shindig Hosting…

Along with using her abilities in the art of party promotion, she is currently directing music videos, and look out for her short/feature films in the future. In addition to all this, she is debuting her beautiful clothing line VIOLETTE this fall. And on top of all that, she had time to sit down with FSF to talk about her life and her kicks…
Tell us a little about the brand, VIOLETTE. When did you launch it? What is the mission? What does it represent?
The brand is a combination of street and fashion forward. It's really dope, something for girls (and guys) that is subtle and classic. It launches this fall and the brand represents a culmination of things- art, music, culture. I want it to represent a group of women (mainly) that don't have many options.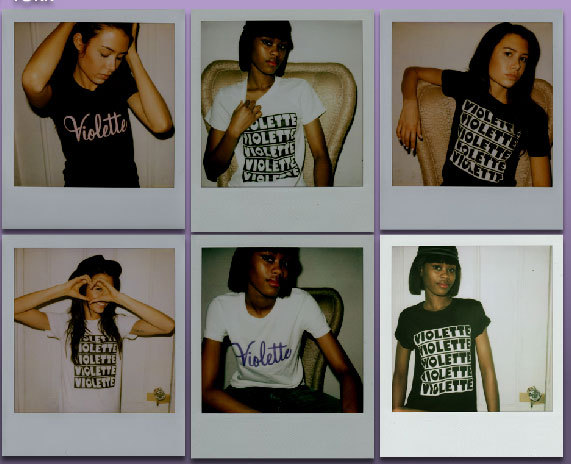 Who is your favorite artist/sneaker fiend influence and how does the fusion of their sneaker style and creative work influence your own?
Claw Money. She's been holding it down for years on the street, in a male dominated scene. She made an amazing transition into the market, and she's getting dough for her individual style. I know her and I still look up to her. She inspires me to stay true to one self and not compromise.
Do you come across difficulties in the male dominated arenas in which you work?
Indeed. It's hard, but not something new in my life. I've always had to prove that I was capable of holding it down in male dominated situations. Some guys look at me and don't think I'm really a director, or that I know what I'm doing. They're usually used to seeing girls want to be in front of the camera.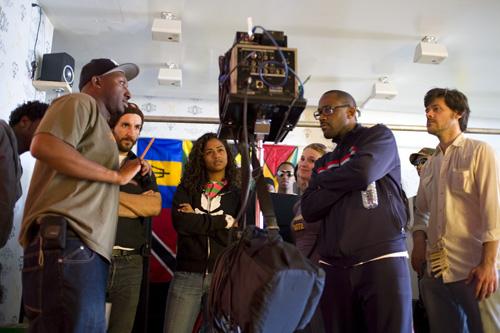 Looking back, when did your sneaker fiendish ways begin?
When I was 14 and I had a job. I could finally buy "name-brands". Growing up we were so poor, I had a wack shoe game. I got made fun of in school and dreamt of Nikes. In high school, one of my many jobs was working at Finish Line. It was a wrap, I was buying shoes left and right...I could have anything I wanted. I was always in love with kicks, but couldn't support my future habit until I was 14.
What pair was it that first got you high?
Jordan 3's.
Do you have a favorite sneaker to wear while out in the field and behind the camera?
Air Max 95's are the coziest of my collection. I tried to work it in some Jordans once, and I almost died!
What actors/artists would you like to work with, and what sneakers would you supply them with as wardrobe?
Johnny Depp / Blazers. He seems so laid back and fashionable that a blazer could work for him. It's such a simple shoe that it wouldn't interrupt his own innate style, but rather compliment it.
If you were to liken your sneaker style to a cinematic genre, which genre would it be?
Classic or Noir. I like classic things, pieces that can be worn for a lifetime. That goes for clothing and shoes. One day, I'd like to give my children all the cool things I have. Noir because I like dark colors and black.
What would you like people to say about your style? What would be your sneaker style's legacy?
I dress like a boy, but I hope people would say..."Her style is uncontrived. She dresses comfortable and fashion forward, mixing up a dope pair of Nikes with a classic Chanel bag."
Lastly, follow me on a hip, avant-garde, street-wear train of thought. If your sneakers were characters in a movie you directed, what would the conflicts, resolutions, dialogue etc be like?
A pair of Jordan 3's walk into a club and spots a hot pair of Supreme Blazers (Red). He's extremely attracted to her and decides to approach her because he can't contain his feelings!
Jordan 3: Girl, I just want to tie you up!!!
Blazers: That was wack. Try thinking outside the box next time.
The end.
In every generation throughout history, artists have been the movers and shakers: inspiring, making statements, and pushing the envelope. What would twentieth-century Mexico be without the painful and poignant paintings of Frida Kahlo? The world of fashion wouldn't be the same without the creations of Betsey Johnson. And, let us look forward to the presence of Va$htie in the film industry!
And remember, all you Sneaker Fiend/Super-Women out there, keep doing your
thug thizzle!! Flame on!!
Peace
Janine
For more on Va$htie:
VIOLETTE: http://violettenewyork.com/
SPACE: http://www.myspace.com/violettenewyork
YOUTUBE: http://youtube.com/vashtie
BLOG: http://riottt.com/vashtie