Girls Got Kicks --the upcoming FSF BOOK!
written by Lori Lobenstine with photos by Amanda Lopez
It's an attitude, a you-can't-stop-me look, a you're-gonna-reckon-with-me-now stance. You see it on girls and women on the frontlines everywhere: on ball players, indie rockers, fashionistas, graffiti artists, soldiers, even baby-faced tomboys on the kickball diamond. What gives them that confidence – that ability to step over obstacles of all sorts? How do they announce that they belong, that they're fearless, that you-better-watch-your-back? Look in their eyes. And then look at their feet.

GIRLS GOT KICKS is the first ever photo documentary of badass females, told from a unique angle: their passion for sneakers. GIRLS GOT KICKS documents a movement of women from all over the globe, a growing community brought together by their passion for sneakers. Their stories are as diverse and colorful as their ever-growing collections of footwear, and now GIRLS GOT KICKS brings them together in a book chock full of bold photos, interviews and short essays. More than a love story about shoes, the book documents how these sneaker lovers push beyond stereotypes for girls and women, using kicks to be both athletic and sexy, hip and tomboyish, grown and youthful, as they define who they are—and who women can be—on their own terms.
WANT TO BE IN IT??
We've already had photoshoots in Melbourne, Amsterdam, NYC, LA, San Fran, Minneapolis (B-Girl Be!), Boston and Miami, but we're still on the move! Contact us if you want to be in a photoshoot, send in your own(high resolution) photo, or add your own story to the mix! We want all the ladies into kicks!
WANT TO READ MORE ABOUT IT?
Check out the press:
Sneaker Freaker (and issue # 16), URB, M.I.S.S.
If you would like to see a book treatment or 20-page color mock-up, please contact us at info@girlsgotkicks.com
UPCOMING PHOTOSHOOT:
No photoshoots are currently scheduled. If you are a female photographer and you would like to help run a shoot (particularly outside of the US), please let us know.
PAST PHOTOSHOOTS: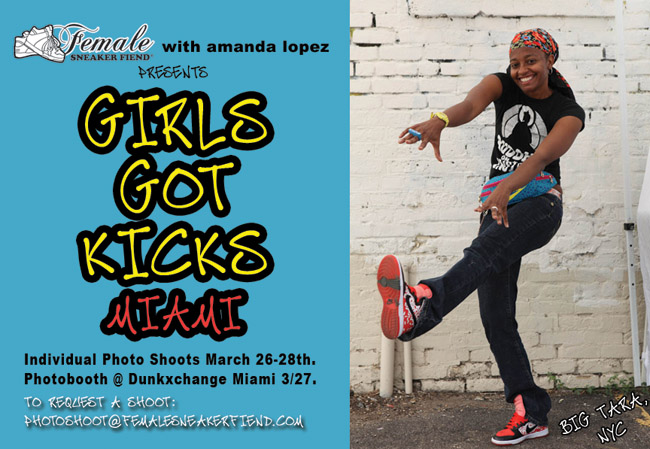 After great shoots in San Fran, LA, NYC, Boston and the B-Girl Be Festival in Minneapolis, we're turning our sites towards the MIA! Teaming up with the dunkxchange for a photobooth and adding some private shoots for heavy collectors, we're excited to see what the girls down South have to offer. Contact us if you want to be a part of it!
And leaving the U.S. behind, we're heading to Australia to team up with Cheech Sanchez, photographer, designer and sneakerhead extraordinaire, and Sneaker Freaker for a photoshoot in Melbourne, Australia. Contact us if you want to be a part of it!