Welcome to femalesneakerfiend! We're a movement, a crew, a website, an ever-growing number of girls and women crazy about our kicks. You might see us on the prowl for our "holy grails", on the forums talking day and night, out at all the sneaker events, or home cleaning our kicks obsessively. We're everywhere!
This website was started by me, Lori Lobenstine. My dream was to have a place for female sneaker fiends worldwide to have a home, meet each other, show our styles, and have an impact on both sneaker culture and the sneaker industry. In just over 2 years, we've done that and more, thanks to all of you who've visited and brought your pics, ideas, energy and inspiration. Don't sleep on the ladies…we're growing all the time!
It's not just my site anymore. It belongs to all of you, and it's co-led by a great squad of crazy sneaker heads. We wouldn't be where we are without this crew: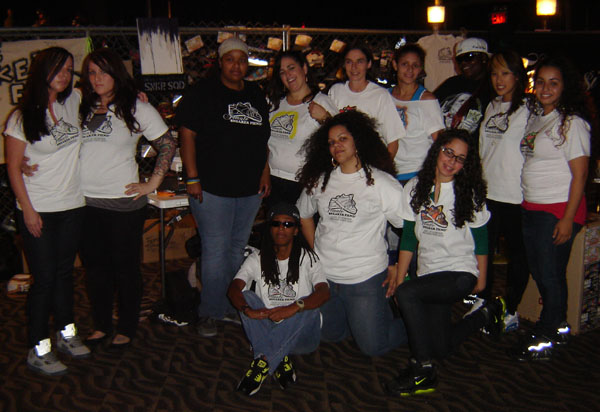 If you'd like to join our informal "staff" or just contribute in a particular way, just let us know!
Here's where you can give us your ideas & feedback, ask to be interviewed, tell us you want to be in our upcoming BOOK, sell us on a new idea, or give us your t-shirt ordering info if you're paying by money order.

If you'd like to contribute to FSF, we'd love to have you. Here are some ways to contribute:
Sending in art and photos via the web:
Make sure your image is AT LEAST 360x480 (pixels).
We accept images in the following formats: jpg, png, gif. JPGs are preferred.
Labeling your image:
Fiends: your first name and the name of your sneaker, can be as simple as "nikes" or as specific as "3bears" example: lori_shelltoes
Collections: your first name only. If you are sending more than one pic, just number them: lori1, lori2.
Art: your first name and the name of the piece, example: lori_sneakerpoem.
Image names should not exceed 18 characters or we will have to shorten them.
Writing for FSF
We'd love to have you write an article or be a regular contributor. If you're interested, please send in a sample of your work or a completed article that you'd like us to post. Your work will be fully credited. Articles should be 300-1500 words long. (Articles that come with relevant photos will receive priority.)
Being interviewed for FSF
We love good story tellers, fiends from near and far, new voices and new styles. If you're interested in being interviewed, tell us why! [link to box above]
ADVERTISING ON FSF
If you are interested in advertising on a site that gets over 1.5 million page requests monthly, that has a diverse and global audience of passionate young women, please contact us for more information at advertising@femalesneakerfiend.com.
Here's your chance to get an email once or twice a month that'll fill you in on the latest FSF news, events, kicks, contests and more! Don't miss it...
We have 4 positions currently open for internships. Interns can live anywhere, as the work is done via the web.
FSF Journalist:
Want to meet the coolest sneaker fiends from around the globe? Be a part of our journalism team and interview famous--and infamous!--sneaker collectors, women in the industry, athletes and more....
Requirements: Please send in two pieces of writing that you've done, whether or not they're published. You must be able to commit to completing an interview every other week.
FSF Web Guru:
FSF needs a social media geek! Are you one? We need help supporting this thriving online community, keeping us ultra-connected with social media, etc. Graphic design and/or media skills a plus.
Requirements: Please send us a resume or list of your experience and what programs you are proficient in.
FSF Marketing and Sales:
FSF is seeking advertisers and other marketing partnerships. If you have a background in marketing and would like to use your skills, build your portfolio and expand your contacts, we need you!
Requirements: Please send us a resume including all relevant marketing and sales experience.
For more internships at sneaker and streetwear companies, check out our internship guide!
Wanna rep FSF in your town/city/school? FSF is currently building an elite street team to rep us around the world. You must be outgoing, positive and hard working. Street team members will get free gear, flyers, stickers, stencils, and more! If you'd like to join our street team, please use the contact us box above.

Right now you can jump on our forums and join over 25,000 members who are buying, selling, talking about upcoming releases, events and all sorts of more personal issues.
Well, as you can see, we have lots of plans. Tell us what you think, join us, but most of all, wear your kicks with pride and have fun on the site!