Boston, MA September 18th & 19th, 2010
Sister 2 Sister was the first ever all-female sneaker design workshop, and it was amazing! From the talent and hard work of our participants to the skills and sharing of our mentor-designers, and generosity of our sponsors, the two day workshop was a testament to what women can do when they build together--across ages, backgrounds, experience levels, and even sneaker companies! Here are some shots from the weekend...
[Back by popular demand, Sister 2 Sister 2 took place in the Spring of 2011.]
Sarah Waxman hard at work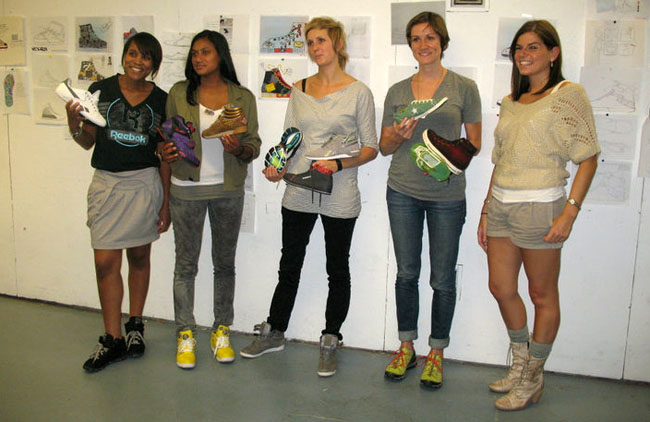 Our mentor-teachers: Pamela (Rbk), Shaona (Rbk), Alice (Rbk), Ann (Converse) and Sara (Puma) Missing from photo: Ashley (Nike) and Layla (Sperry Topsider)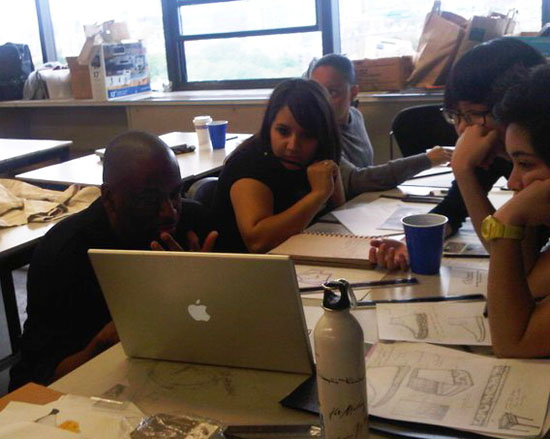 D'Wayne Edwards (Jordan Brand) helped make the whole event possible and jumped in to help teach form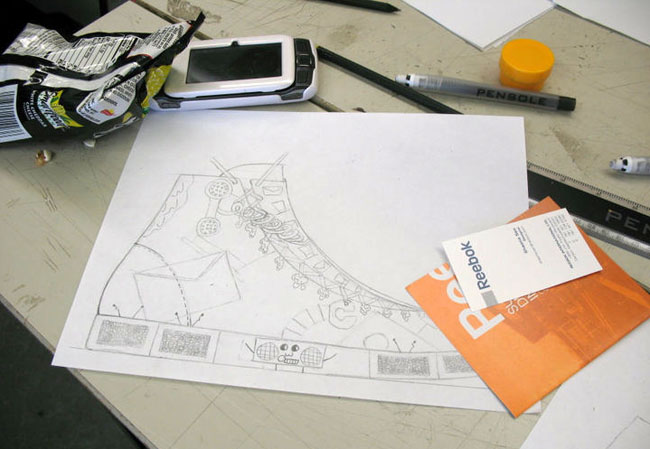 All you need: food, phone, "pensole" and resources from mentors! (Drawing by Ashley from Brighton High School)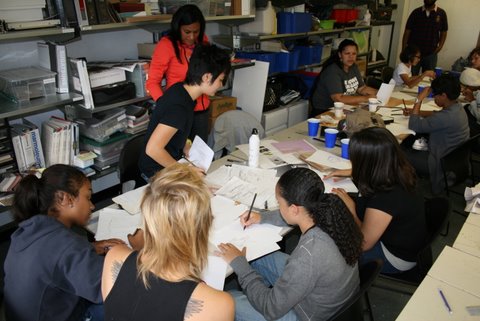 Hard at work: Mentors Shaona (red) and Alice (tanktop) help Sheyla, Izzy, Sarah and Sarah
Final Presentation Audience...
Sabrina presenting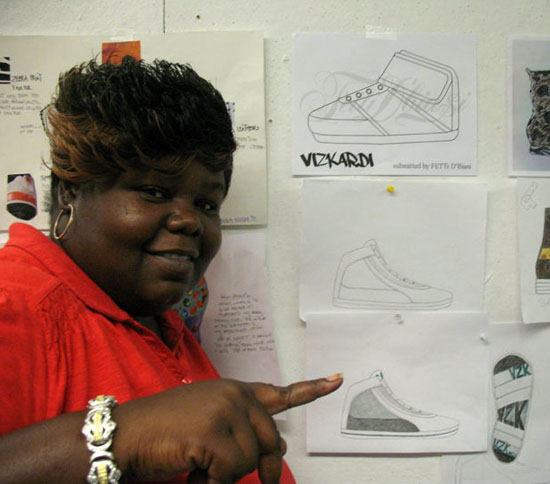 Fetti presents her submission design and final sketches. The seminar challenged participants to come up with their "signature shoe" and to work extensively on form.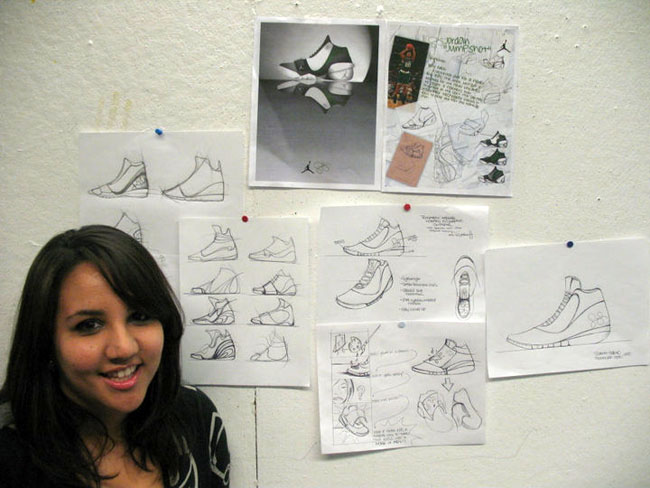 Sarah Sabino (aka S4) with original and final sketches. (Sarah was a finalist for this year's
Future Sole Competition.
Sarah Sabino also hung original art for our Saturday night networking event
at the Design Studio for Social Intervention
Fabiola from original to final sketches
Erica (aka Pinkeye) from original to final sketch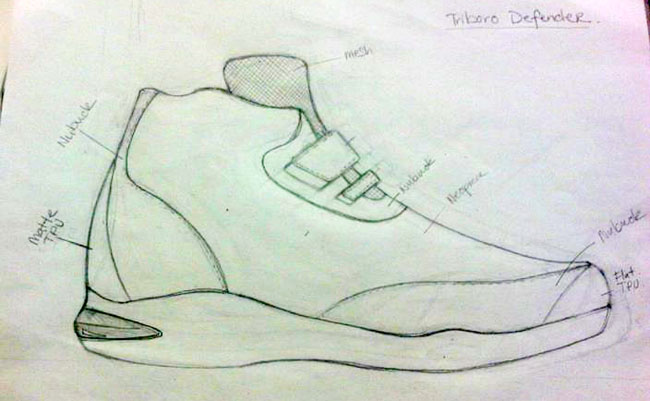 Close up of Erica's "Triboro Defender" final sketch
Katie from original to final sketches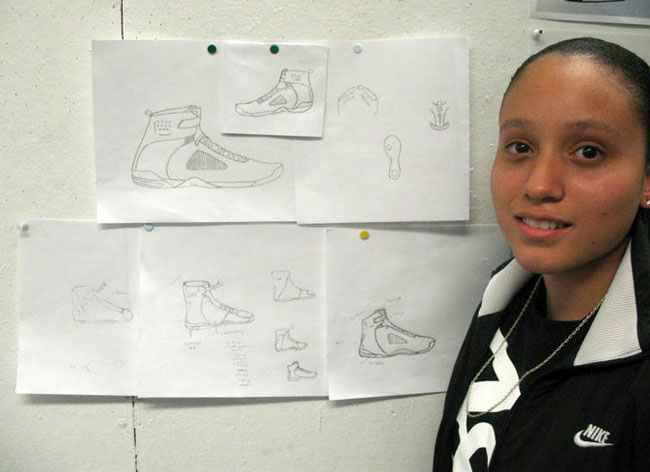 Izzy--multiple sketches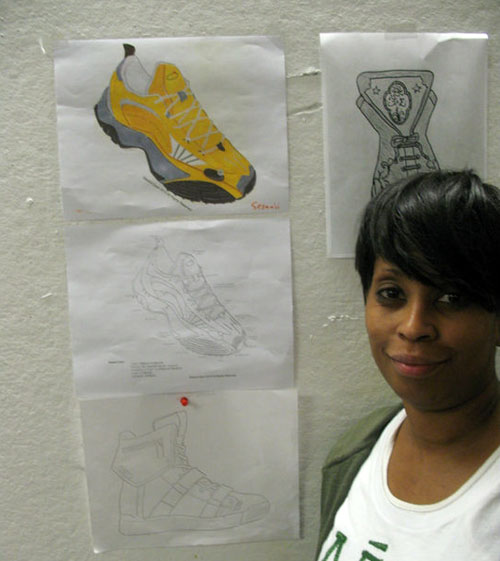 Sesanii from originals to final sketch
Fee from FSF and OSD helped document the weekend along with Erica and Fetti. Thanks!
Fee, where's your sketch??
Other art at the Networking Gathering was original photography by Amanda Lopez from the upcoming FSF book Girls Got Kicks
FSF crew members from NYC (Fee, Fetti and E) and Boston (Lori and Sarah)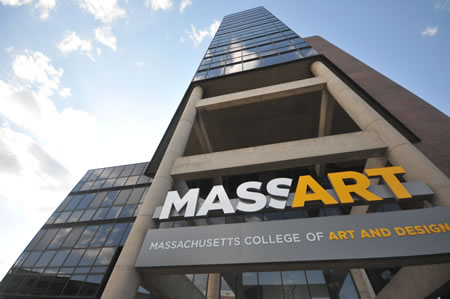 The event was generously hosted by the Massachusetts College of Art and Design.
Our amazing title sponsors were:
Our fabulous event sponsors also included;

Sister 2 Sister 2 (Spring 2011) photos and story HERE.