It Takes Two
An Interview with the proud parents of the new Claw x Nike Vandal. Jesse Leyva is the Global Director for Nike's SportCulture Division and Claw Money is an entrepreneur, Fashion Editor for Swindle Magazine, fashion and sneaker designer, graf writer.
by Lori Lobenstine
Claw is the brash peacock. Jesse is the soft spoken, eagle-eyed cool hunter. Claw's rocking satin. Jesse's got on flannel. But don't let first impressions fool you. Both are experts at what they do, and both are just as intense and well known in their fields. Jesse might be a behind the scenes guy, but he's the face of Nike when it comes to collaborating with cultural icons. Claw might be larger than life, but her willingness to work around the clock is a key to her success.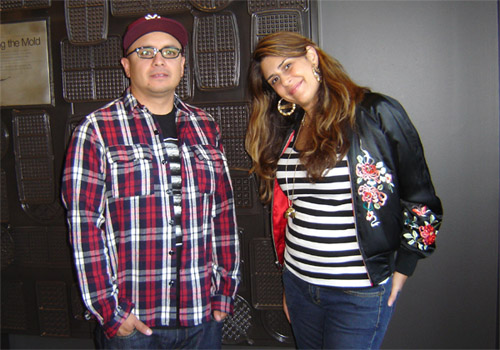 So what happens when they team up?? Look out! It's hectic, it's creative, and it'll give you some insights into what's coming up in the sneaker game. (Give you a hint…women are leading the way!)
About Working Together…
Jesse, how did you get into doing collaborations with artists, and have you done others with women?
A number of years ago, a group of us [at Nike] thought it would be great to have creatives from various design disciplines assist us in placing cultural comments on our most iconic and innovative footwear from the past and present. When Nike works with creatives, we do so on a very select basis. I've worked with a number of female creatives, like Sara from Collette. We worked with Sara on a project for Collette a number of seasons ago. Sara led her creative team on creating a Collette Nike Elite color way. Very French. Very Sexy.

How did you pick Claw to be the artist for Nike's first Tier 0 women's sneaker?

I had known about her, and then we met through a mutual friend. There is a small group at Nike that bounces ideas around. We talked about [this collaboration] and a mutual friend introduced us. I knew it was right. Her mixture of New York fashion, sneakers and culture. We talked about how the culture, fashion and trends worlds were colliding. That's how the project started. I started bringing in people, and everyone really liked her vibe. The concept meetings were pretty funny. We want to collaborate with people who will push us somewhere unfamiliar to Nike. There were things she wanted to do, and we just couldn't…dog collars coming off the sneakers and stuff…
What's it like working with Claw?
Jesse—It's funny. I'm really bad about being timely about emails.
Claw—I won't let him ignore me!
Jesse—She never sleeps! I'll send an email late from Portland, and BAM, she's written back. And she'll always squeeze in time, if I'm in town, so the project moved quickly.

Jesse—Early on, I went out to dinner with Claw and brought a friend. Claw had on a Jesse's Girl t-shirt and a Jesse belt buckle!
Claw—That's my fiancé's name! (Cracks up.)
Jesse—When she went to the bathroom, my friend said, "DID YOU SEE HER BELT BUCKLE?!" I had to explain it wasn't about me….
Claw, what's it been like working with Nike?

It's been very exciting working with Nike. You have to be willing to fly by the seat of your pants. If Jesse's in town, all things drop! But it's been a great year and a half. And I feel like I've been sitting with bated breath, and now it's finally out! These vandals are a real feather in my cap (laughs).

Besides the hectic pace, what's Jesse like to work with?

Jesse is so creative. He's a great collaborator and just a doll. He really pushed me to do some things that were unexpected. My first Blazer design got shelved because he knew I could do better—and he was right!
About Females in the Sneaker Game
Female sneaker fiends all over are really hyped that Nike collaborated with a female artist AND came out with a Tier 0 women's shoe. What other things would you like to see Nike do for the women's market?
Jesse—I've been more inspired in the last couple of years by the females than the guys. Guys are stuck in one zone, but females are breaking the rules. At Nike, women are taking the brand to a whole new place, like the stuff they're doing in the dance department. They're changing what form and function mean. A lot of people [at Nike] don't know what they're doing, but that's cool because it gives them room to design. The female movement is going to take sneakers in a new direction.
Claw—Nike and all sneaker companies have to realize there's this girl out there who wants something on an equal basis with guys. She's striving for equality more than for a particular shoe. Nike is finally addressing this, really speaking to the girls. I'm looking forward to seeing what's to come.
As a long time sneaker heads, you've seen the "sneaker game" in many different incarnations. What's been your favorite sneaker era, both in terms of the community and the actual kicks? Where do you see women taking the game in the future?
Claw— I'm really nostalgic. I love 89-91, around there. The Nike all-court. You never see those! I look at flea markets, I long for those! The sneaker community today is getting bigger and bigger. It's getting more competitive to find the old stuff. But the girls are making themselves heard!
Jesse—Two things that I see in the sneaker community right now. I've been spending a lot of time in the boroughs [nyc], places like Fulton St. and Fordham Road. Kids are buying sneakers to wear them. To rock them hard and then get a new pair. And that's what they're made for. That what it should be about. And the last nine months that I've been traveling, I'm snapping photos of girls. Girls are breaking the rules! They're out in front from a design standpoint, like guys used to be 7-8 years ago. The female sneaker heads are pushing us to a new place.
Claw—Like Jesse said, of course the females are more creative! I live in the Bronx now and that's where the sneaker kids are. The girls uptown and in the Bronx, they look DRESSED with their sneakers. In women's fashion, there is nothing as obsessed about as sneakers. Maybe bags, but it's still different.

There aren't bag parties are there?
Claw--No and bags and shoes talk mostly to other girls, whereas sneakers talk to guys and girls. There's that private conversation between fiends. That look.
About the Claw x Nike Vandal
Claw, you're a trailblazer and a vandal, any coincidence in these sneaker selections?
Claw—I really wanted to do the vandal. It's my favorite sneaker! Jesse concepted the blazer. We just kept talking sneakers…
Jesse—We wanted to choose sneakers that real people who are into sneakers would know, not just air force 1s or dunks. I mean an AF1 would be amazing, it's an amazing shoe, but we wanted something different.
Claw—The first and 2nd design happened at the same time, but we needed them to feel really different.
Where'd you get the idea for the peacock feathers?
Claw—[Fashion designer] Vivienne Westwood once said 'Why do you want to look like everyone else? I'm a peacock.' And I thought, yea, I'm a peacock! So I decided to use peacock feathers in my design.
Claw, you're about to be the author of your second book and the creator of your 2nd sneaker. What are the similarities and differences in the creative processes?
The first book I didn't write anything! The 2nd book I'm writing. I have so many jobs, I stay really energized. I don't have ADD, but it's like I have to…it's sneakers today, book tomorrow, then a photo shoot…the creative juices just keep flowing! But it's been really great to finish them [the books and sneakers]. It's like all the pots were on the stove and now they're coming out with all the sauces all ready and delicious—yum!
What will surprise people about this second sneaker in the collaboration?
Claw—The colors, the fabric, the reflective ink. Jesse took the padding out of the toe, so it's a slouchy sneaker. And having vandals in small sizes! I've been having to buy vandals in a 7 men's and wear 2 pairs of socks.
Jesse—That Nike's sticking to it, that they'll keep supporting the women's game. We're definitely gonna focus on women's. This was the front of where we wanna go. This was a really good small win. It's hard for people to believe that women are just as obsessive as men. At first the guys in the tier zero stores were uncertain, and then they were like, "that's hot!!!"
And I gotta agree. The final product is a beautiful combination of these two multitalented "creatives". It holds Claw's sense of fashion and flair for the 80s in its rich colorways, and Jesse's eye for detail with its balance of function and style. And as their conversation showed, the Claw x Nike Vandal has something else to strut about: it signifies Nike's ever-growing respect for the females in the game!