The Goddess of Victory
An Insiders' Look at Women and Nike Today
By Lori Lobenstine
A famous, ultra-stylish woman heads to New York.
It's Fashion Week.
She wears her custom-made "little black dress", complete with high collar, crystal beadwork and a very obvious slit up her entire back.
She feels both powerful and sexy.
She puts on a show.
Her fans go wild!
She wins the 2006 U.S. Women's Open.
Nike, the goddess of victory, has crowned Maria Sharapova again.
And Nike, the athletic shoe company, has once again proven that it's about more than athletics and more than shoes. How did they come to design a gorgeous "little black dress" for a world-class athlete to compete in? The dress and its lead designer, Nathalie Candrian (now Creative Director for Nike Tennis Footwear), reflect a much more modern approach to women as athletes and designers than it might seem.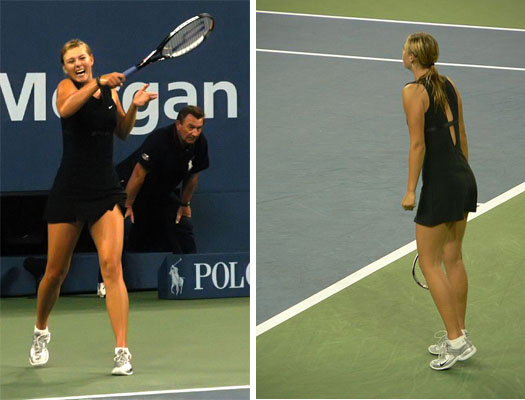 Maria Sharapova winning the U.S. Open in 2006
Nathalie is a female tennis player herself, but she insists that that has nothing to do with nailing that design. When I asked what influence being a female had on her as a designer, she said, "It doesn't matter who you are, but what you have to offer, what you bring to the table. Your passion for newness and innovation is the focus. That's a positive thing. Everything else is secondary; we don't really think twice about it." And being a tennis player? "Six months ago I switched into tennis [her current position at Nike]. That is a sport I love and a sport I grew up with, so that feels a bit more at home, in terms of what I know. But that doesn't mean it's any different for me in terms of challenge or interest."
And that is the complicated story of most every female designer I interviewed at Nike. While frequently citing the overall importance of diversity of all sorts at Nike, they all insisted that for the most part, gender does not influence their design any more than my being a girl influences my jumpshot. Indeed, only one of the eight women I interviewed worked exclusively with women's product, and a couple worked almost exclusively with men's. Most worked in categories that spanned both. The more I talked with them, the more the three categories I'd imagined for this article dissolved as well; this wasn't turning out to be a neat summary about Nike's perspective on 1) women as designers, 2) women as athletes and 3) women as consumers. Like Nathalie, most of the women I interviewed fit into all three categories. So I'll let them and their work tell the interwoven stories of women and Nike.
LOTUS BLOSSOMS AND BABY STEPS
Shaneika Warden, Color Designer 2 for Nike Sportswear
"This one was inspired by one of the stories that we're doing that's all about modern day queens, all about self-empowerment, self-independence, self-evolution and just being really coherent. That's definitely a part of our consumer and what she represents. So we have the lotus flower, a symbol of life, so we put those little nuances in there, those unexpected details…we try to look at the shoe from a holistic standpoint."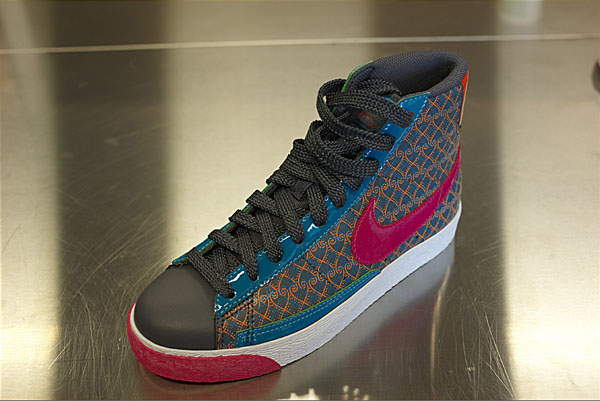 Lotus flower inspired Blazer
"I would say as a designer, you're a designer and a problem solver, and it doesn't matter male or female. Just give me a problem, let me fix it. But I think having a women's take, there is a difference. We're all different as individuals…not like women always think different from men, but you just get different perspectives and more ideas in the pot. It just provides balance. And it's nice to see. Everyone can step up and do it, and if you're good, you're good. And if you're not, get out of the kitchen! If you can't cook, get out of the kitchen! [Laughs…]"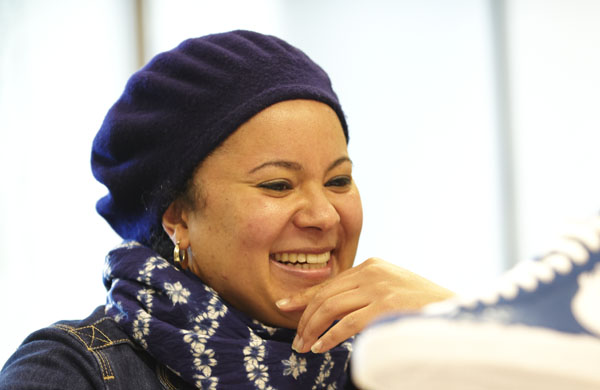 Shaneika Warden, Color Designer 2, Nike Sportswear
What do you want female sneaker fiends to know?
"We're getting better. It's baby steps, but the more we hear from female consumers…it's strength in numbers, right? The more info we get, we're like, 'Okay we hear you talking. Good stuff.' I want [female sneaker fiends] to know …that they have an amazing voice, and to speak up and speak loud and speak proud, because a lot of the work that we do here, we do it for them! And they're just as much a part of the team as we are."
TESTOSTERONE
Umbereen Qureshi, Football Color Designer 2
Do you feel like your work is impacted by you being a female?
"I don't really feel like I am, in the sense that these are the females and these are the males. It's whoever's good at what they do, that's why they're there. It's not like, oh we needed a woman in this group... And especially in football, you would think lots of testosterone, lots of guys… I've never once felt like I'm a girl. I've just felt like part of the crew. And I think that's one thing that's really good about Nike overall, as far as I know no one's ever said, 'I feel kind of like the guys aren't paying attention.' The [guys] are like, 'Dude, we're going to play soccer, wanna come?' And I'm like, 'No. Formula 1 is on, I can't make it.'"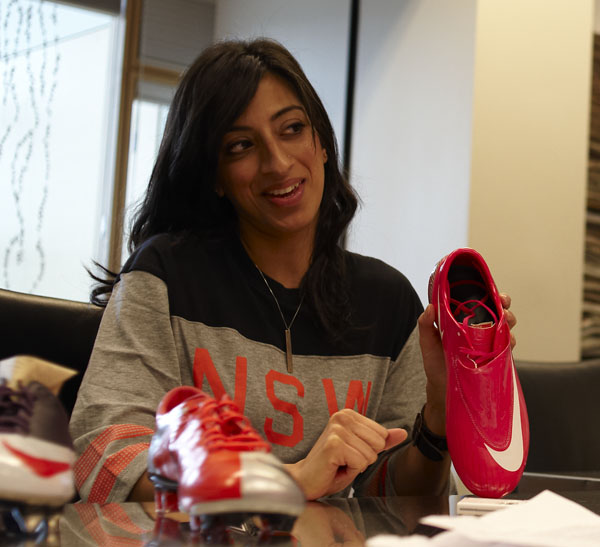 Umbereen and the Nike Mercurial Vapor Rosa (aka-The Pink Panther)
"These came out prior to me joining the team. There was so much buzz and energy around this boot; it was in GQ's top 100 or top 50 coolest products out last year. There was a lot of energy and hype around the pink. Within the marketing and design team, they came together and said, 'How do we push our limits?' And so this boot came out, Holiday '08, and we had one of our players, Franck Ribéry, on the French national team, play in these. It was a huge deal. Our advertising was around the Pink Panther, and Ribéry, who is a great player, got lots of attention and lots of love. People really flipped out over it."
Because guys are so proud of themselves that they can wear pink?
"Yea! Who says a boy can't wear pink? I say let them have it!"
HER TOUGH LOOK
Keryn Francisco, Women's Global Training Apparel Design Director
"Right now what we're really focusing on is dance and yoga. These are fairly undeveloped industries, and we want to be the first to arrive with true innovations for those sports. So that's probably what's driving me the most right now, with this relentless curiosity about what it is that that person needs. So it's totally geeky, and I totally geek out on it, these scientific things, but it's true, for someone who's a yogi, she has very specific needs: it's about making sure she has enough mobility and ventilation, and being able to be comfortable. And those bring up a whole other set of problems that I couldn't necessarily apply to a runner."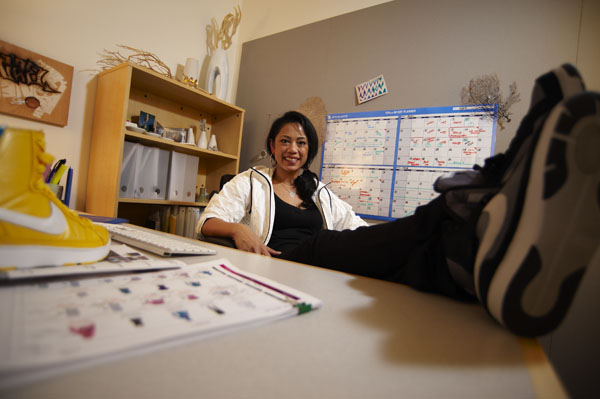 Keryn Francisco, Women's Global Training Apparel Design Director
And how do you learn about design problems unique to yoga?
"I've never been to the gym more than since I started here! In terms of yogis, and going to yoga classes, my entire team…a couple of them take the same yoga class together, because we're working on that. We see people, we visit schools, and talk to girls, like weekly. So we're not in a bubble. We're interested in what's important to the athlete not just what's important to us."
Nike Troupes
"And for women's training shoes, this is my favorite right now, this is the Troupe. The story behind this is so perfectly Nike, because it was actually about the dancer, the freestyle dancer. We know that she's wearing Dunks. So what we wanted to do is really look at our athlete, and what she needs, and combine it with the style that she's looking for. This shoe wouldn't have been invented if we didn't look at it that way. It would have stayed a Dunk. (And maybe you could get it in purple!) But if you concentrate on designing for the athlete, this is what you get. When I talk about Nike design, it's taking parts and hybridizing them together, making something knew. So this [the wrist band] was of course part of her wardrobe , totally part of her style and athletic wardrobe. Part of what gives her her tough look. So we used it to provide support and also give it its style."
PUSHING REALLY HARD TO MAKE IT HAPPEN
Jen Lorentzen, Senior Designer, Brand Design Team, Nike Sportswear
"As a brand, I think it's really nice to see us communicating directly with females for a change…I mean I think we've gone up and down. The growing number of women here is affecting the product in a way that you can't argue with.. I think that's exciting."
-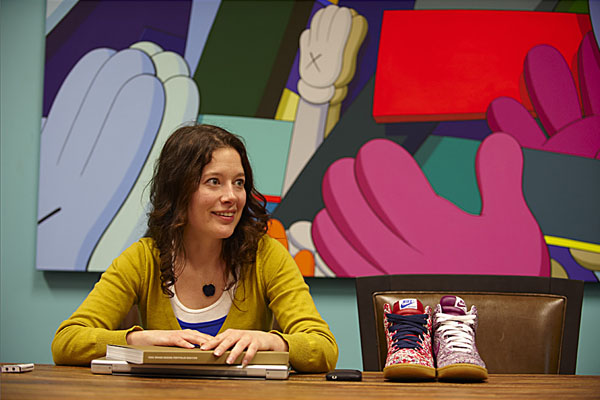 Jen Lorentzen, Senior Designer, Brand Design Team, Nike Sportswear
"I think it's good to see really awesome stuff for women come out! One of my favorite photos of the whole recap of the LA opening for the Liberty Dunk was a dude sitting down trying them on, with one of each color on his feet. And so it really doesn't matter, if you make good stuff. Even my boyfriend was like, 'Oooh, how big did they make them?' And I was like, 'Reeeally?' So I think if it's good enough, it should translate both ways. I think we've made a huge improvement."
"And we all have to say—it's kind of like patting yourself on the back—but it's like keep going, keep pushing because if you don't keep doing it, it might all fall off. But again, I prefer to be challenged. It's no fun to just coast down hill!"
THE "LITTLE BLACK DRESS" WINS IT ALL!
Nathalie Candrian, Creative Director for Tennis Footwear
So getting back to our little black dress, how exactly did it come to be?
"I was still working in the Innovation Kitchen and was asked to design a dress [for Maria]. The US Open has day matches and night matches, and I wanted to use the moment, and work with her to do something special for her but also for the moment. And that was the idea for the little black dress. Which is a lot of her passion…in that world of fashion—and it's fashion week in New York—so taking a performance piece and making it perfectly right for tennis, but then giving it that spin. That's what we did. It has all the functionality that it has to have, but we added a little bit of that attitude. It was interesting because people that know her best said to me when she walked on court they'd never seen her so confident. So that's another thing, giving an athlete confidence through the work that we did. And she won!"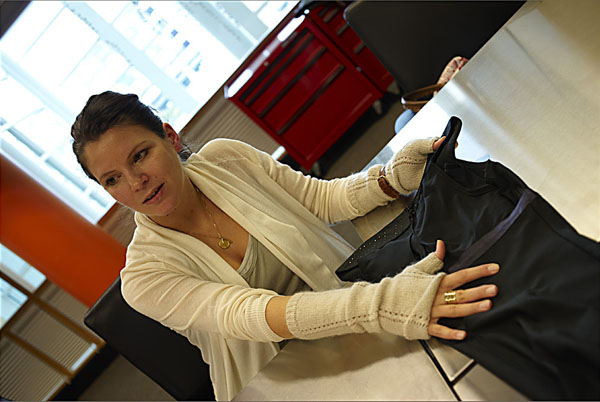 Nathalie Candrian, Creative Director for Tennis Footwear
From a little black dress to a great-fitting jacket, from a Lotus flower to Troupes, from pink soccer cleats (for guys) and Liberty Blazers (not for guys)…Nike's definitely got all sorts of new ideas for meeting the needs of female consumers and athletes. Which begs the question: What's Nike got next for women? To get some answers we turned to Drieke Leenknegt, Global Design Director Brand/Energy.

LISTEN TO THE ATHLETE
Drieke Leenknegt, Global Design Director Brand/Energy
Where is Nike taking product design for women, be it in performance or Nike Sportswear?
"To answer that question, we need to go back to the founding principle of our company. 'Listen to the athlete.' There is amazing potential in the women's training category, and the more women participate in sports, the better our offering will become. Our Actions Sports category is a great example of this principle, where we work together with a roster of female athletes to create the best product on the market. By taking women in sports seriously and designing product for them and with them (in only the way Nike can do), we will continue to innovate – designing the female classics of tomorrow."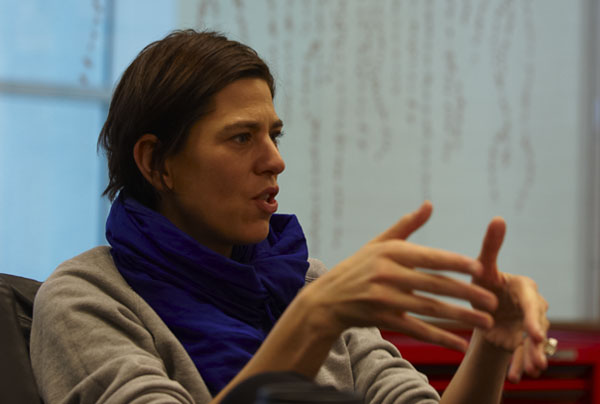 Drieke Leenknegt, Global Design Director Brand/Energy
"We want to take the female consumer seriously, too. In Nike Sportswear, it is all about taking our icons and remixing them with today's innovations. Take the Dunk: the female consumer should have the same access to the Nike Dunk as men. She loves pop culture as much as men do. And we ask ourselves, 'How far can we go without changing the iconic silhouette?' The Liberty Blazer is the perfect example of this thinking. We didn't change the Blazer; we kept it in its original form and remixed it with a bold material that connects to the female. With the skinny Dunks, we push it to the extremes, staying close to the Dunk in its iconic shape, but listening to the voice of our consumer. The skinny Dunk is slimmer, more adaptable to her body, her movement, and her outfit. We hope to offer all girls a wide range of products that reflect the authenticity of the icon and the sport from which it was conceived."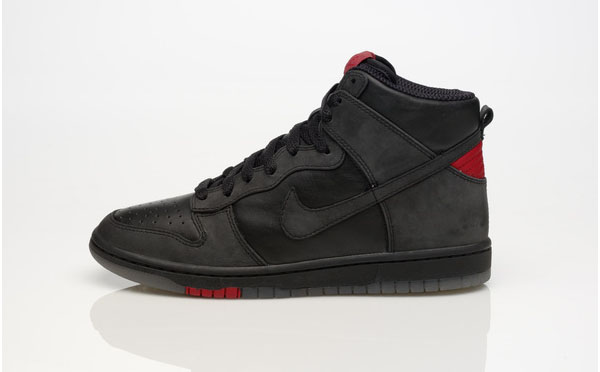 Nike Skinny Dunk Hi
So as I set out to write about women at Nike, I started with a story about a woman in a little black dress. I hate dresses. I love the story. As I asked women at Nike about the importance of being just that—women at Nike, they said it wasn't important at all. Then told me in a hundred little ways how it was. As Nike increases their attention towards women as athletes and consumers, let's see how it all plays out. Hopefully, Nike the Goddess of Victory will crown us with some fly kicks and gear!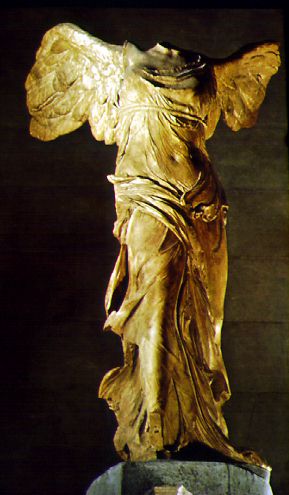 Also in this series:
Something Old, Something New: Nike design moves forward while staying connected to its roots
Want to Design for Nike?: Tips to get you there from women who made it.
Portrait photos by Kyle Heddy at treadinglight.com