"Something Old, Something New"
Nike Design moves forward while staying connected to its roots.
by Lori Lobenstine
A widespread tradition for weddings is to have the bride wear the following:

Something old was to symbolize continuity with the past, something new was to symbolize hope for the future, something borrowed showed her connection to friends and family, and something blue was because blue symbolized both love and purity. In any case, Nike Design leaders seem to be hearing wedding bells, because they're definitely channeling those themes. Let me explain…
Wedding the Past and the Present
Any Nike fan knows that Nike Sportswear is about wedding the past and the present, whether it's the Cortez updated with flywire or the Blazer feminized with beautiful Liberty fabric. This intentional blend can mix and match: an iconic colorway on a new model, an iconic silhouette with new technology, etc. Kelly Tweeden (Nike Sportswear Design Director) explains the thought behind all this: "It's also not walking away from the part of [Nike] that people really love. So we innovate a lot, but we also innovate on styles that people love, so that you stay true to yourself and then you bring in that innovation…. You want people to feel like they're familiar, but you want to make sure it is with our newest technologies. Something that a new generation can identify with as well. So bringing a familiar silhouette to a new place is something that goes across all Nike design."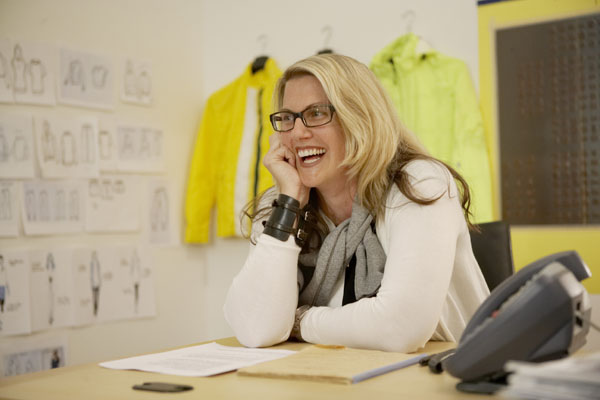 Kelly Tweeden, Nike Sportswear Design Director
And it's not just for footwear anymore. Nike is taking this same philosophy to its apparel, as Kelly Tweeden explains: "I think what is really interesting is what Nike has been doing for ten years now is looking back at iconic sneakers….But I think for apparel, although apparel is more recent in terms of history, predominantly starting in the 80s, Nike also recognizes our iconic apparel. Okay, we have a track jacket. It's been in the line since the 80s. But what if you play with materials? What if you keep the track jacket silhouette, but make a fleece one. So that's definitely how we can push it. We own fleece as a sportswear company: why can't we make a track jacket in fleece? Or in flywire, our most recent innovation. So how can you stay with your silhouette and use the most innovative material? That's quite interesting, and we are just at the beginning of that…It's amazing."
Nike Flywire Jacket
As Shaneika Warden (Nike Sportswear Color Design 2) sums it up, "You respect the foundation and old school architecture, but at this company you just dream. And the sky's the limit."
Someone Old, Someone New?
"Something old, Something new" can also apply to how Nike builds its design teams. Rather than taking all the designers who really know basketball and putting them together to design basketball sneakers, they firmly believe that more creative design solutions will come from more diverse teams. So some designers are looking at "something old" (familiar) and some are looking at something brand new to them. This impacts the design solution because some folks at the table are designing subjectively ("I love basketball! I would play in this!") and others are designing much more objectively ("What is the design challenge here? What are the needs?") As Kelly Tweeden explains: "It's interesting, because there are two ways to look at solving a problem. You can be in it, you can have a personal close connection, and really feel it, or you can objectively solve the problem, and look at all the elements you're asked to work with and ideas that would help modify those... So not being a man doesn't make me any less of a menswear designer. Maybe I can solve it better, because I can step outside of it and really look at it for what it is. I can focus on craft, and function and innovation without necessarily having to say, 'Would I wear this?' Without overly personalizing it. That's what gets really good design. When you have a piece of yourself in it, but it's not overwhelming what you're trying to design."
Nathalie Candrian, Creative Director, Nike Tennis Footwear
Nathalie Candrian tells about being in that exact position after growing up in Switzerland and then being asked to design men's basketball sneakers at Nike. "A culture which was very much not one I grew up with, which was very interesting because you learn so much about people and a culture and a sport that is not you, and that is new and fresh, and a passion. You have a different perspective on it than someone who is focused on it forever. So that was very eye opening and broadened my horizons." I asked her if she had to learn the sport to design for it. "You do, you learn all of it at the same time. It's part of being passionate about what you do. It's part of solving a problem, and you have your team around you, and some of them might be totally all basketball, and you just learn from all around you. You're like a sponge, and you take it all in and you learn step by step. You get better and better and before you know it you know more than you think you do."
Something Borrowed...
Where does Nike come up with all of its ideas, colors, and designs? What's the thinking behind a new fabric, sillhouette or graphic? And how'd they think of that magic flywire anyway? Ask any designer and they'll tell you, inspiration is borrowed from everywhere! Borrowed from footwear to apparel, from that guy down the hall, from the brooms at the Dollar Store… Here are a few crystal clear examples of how women designers are collecting design inspirations from the world around them.
Umbereen Qureshi, Football Color Designer 2
Umbereen Qureshi, Football Color Designer 2
Project: Mercurial Superfly football (soccer) cleat
Inspiration: Porsche GTR Formula 1 race car
"Since it's lightweight—it's about speed, color and motion—I looked at a lot of cars, and Formula 1 Racing, which I love anyway! We have carbon fiber in the plate, so I felt there was a pretty good parallel running there. There's a Porsche GTR that has an orange body…so looking at the car and getting some inspiration of color and motion, this is a really fast car, super light weight and minimal. Same thought process here [with the shoe], so we looked at the colors and the car and came up with this max orange body, and then the graphic was more representational of details of the car and details of the boot we wanted to amplify."
Nathalie Candrian, Creative Director, Nike Tennis Footwear
Project: Flywire
Inspiration: Suspension bridges
"When people ask where you get your inspiration from, it can come from anywhere, inside of Nike or anywhere else. For example, I worked on flywire. If you think of suspension bridges and the strength of something very minimal holding up so much, how to take that and bring it back to what that could be on a shoe or a jacket and how could that help you perform better, or hold you in moving sideways. Making those leaps in your mind is a big part of being innovative and creative."
Keryn Francisco, Women's Global Training Apparel Design Director
Project: Material innovation
Inspiration: Fern
"Truly Nike is one of those companies where you can come to a design review with a picture of a fern, and you can explain how that inspired you to think of an innovation for a garment, and people get it. (Okay, how?) It has to do with how the fern opens and closes. It's a material innovation. Ferns are prehistoric. They just survive, they curl up, and then they regenerate. They're the first ones to come out after winter. It's crazy. For this idea it had to do with the material and how it reacted to the body. The relationship was less about the aesthetic and what the garment would look like and more about how the garment would perform for the athlete. So it would breathe and aspirate with the person wearing it, and the more they heated up, the more it would exhale."
Shaneika Warden, Color Designer 2, Nike Sportswear
Project: Color design
Inspiration: Me!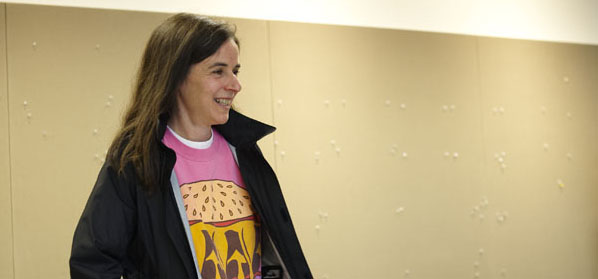 "[Inspiration] can come from anywhere! It can. And what's even funnier is that as a color designer, I never really realized how…everything we look at is color! I wasn't ever coherent enough to see it right off the bat, but now immediately, I'm sitting here looking at you and I see this pink shirt with these warm neutral colors behind you, with those hints of clear white (pins on the wall). It's a composition! It's a color combination. You're looking at that black [jacket] sitting up against that warm neutral background with that creamy white base. It's a color composition. It's kind of crazy. Everything I look at, it's like wearing some weird x-ray glasses. It's funny.
I take pictures of the most random things. Walking around New York, I was inspired by some dollar store. There were dollar brooms sitting outside, but the colors of the handles were just major. You know, picking out patterns and colors that clash or compliment one another. It comes from everywhere."
Shaneika Warden, Color Designer 2, Nike Sportswear
Something Blue...
In ancient Rome, brides wore blue to symbolize love, so we'll use it to symbolize the teamwork that shepherds a budding idea all the way out into the world. Teams might not always love each other, but their ability to work together, to be honest with each other and to trust that each member is critical to the process, sounds, well, like a marriage!
In product design, graphic designers and industrial designers work together all the time. Julie Igarishi explains how this works, "As the Graphic Design Director for global footwear, I get to work with an amazing team of designers every day. We have graphic designers and industrial designers who are integrating graphics into product. My job is to really facilitate and enable graphics and the highest level of execution of graphics on product. It ranges from branding, to what are the elements that help finish a product, from the textures and patterns that complete the design all the way to the what you might call more "soul" oriented graphics, which are the patterns and prints that appear on our more iconic models. And I think that again, graphic designers look at footwear design differently than industrial designers, and I think that Nike celebrates that; Nike celebrates that people have diverse opinions and diverse ways of designing a solution for a footwear problem if you will."
Julie Igarishi, Graphic Design Director for Global Footwear
Are there challenges? Of course. But all of the designers saw the challenges as things that ultimately made them better designers and made better product. As Nathalie described it, "Of course everyone has opinions and ideas, and that's encouraged and healthy that you have those discussions and arguments. That's good because it allows you to reason what you do. Why are you doing something? Why do you think it's right? It's not about I hate it or I love it, but why. So you're helping each other, by creating tension at times; it's necessary to get to the best possible product. For all you know you think you have the best solution, and you test it and it fails. Nothing's ever perfect, especially not if you have just one mind on it."
Like all relationships, teamwork and design come back to communication and growing together. Nathalie continues, "So staying open to that diversity of opinion and thoughts and ideas, and somebody works with your idea and has another thought, and 'Hey what about this?' and it grows from there. That's exciting! And just like sports, the whole team is excited. It's not about one person."
Not just about one person eh? I think I hear those wedding bells…
Also in this series:
Want to Design for Nike?: Tips to get you there from women who made it.
Goddess of Victory: An Insiders' Look at Women and Nike Today
Portrait photos by Kyle Heddy at treadinglight.com