Want to Design for Nike?
Tips to get you there from women who made it.
by Lori Lobenstine
How do you get to be a designer at Nike? The good news is, there are lots of ways. This is no guarded castle where you have to earn your way in through working in design at other gigs for twenty years. If a job at Nike is your "Holy Grail", you can deploy the same passion and focus as you do hunting through thick and thin for those sneaker Holy Grails. As Nike Sportswear Design Director Kelly Tweeden, says, "We are always bringing people up, we have a lot of great young talent coming in which is fantastic. Send your resume! We have a great internship program. If you have that dream and that passion and that drive, you can get here." Sounds good right? Well here are more tips for getting yourself ready for the Big Gig, all from women who are already there…
Top row, from left: Shaneika Warden, Jen Lorentzen, Julie Igarishi, and Kelly Tweeden.
Bottom row, from left: Drieke Leenknegt, Keryn Francisco, Nathalie Candrian and Umbereen Qureshi.
DESIGN SCHOOL
The path to being a designer at Nike can start from many different points. Sometimes it starts when you're just being a creative kid, like when Keryn Francisco (Women's Global Training Apparel Design Director) got her first pair of Nike Cortez. "They were the OG, blue and white colorway, and that was in the 7th grade. And I loved them so much I made roller skates out of them! I was the coolest chick on my block, because everybody had those white lace ups with the metal wheels! Everybody had those and I had the rubber wheels on my Cortezes!"
Keryn Francisco, Women's Global Training Apparel Design Director
Getting to more formal paths, everyone I interviewed had gone to school for design, including graphic design, industrial design, fashion design and apparel design. But it's never too late, as Keryn continues, "Wow it was a long, crooked path. Just like any teenager, I didn't really know what to do. I wish I had a design godmother who told me what to do! Because I was like, 'I'm going to read books for the rest of my life, and go to the university.' I did the whole traditional thing…. I finished the [English] degree, and then I decided, I can't suppress this passion and desire. I couldn't go to sleep without thinking about clothes and fashion and apparel and product. So I said, 'I'm selling everything!' I packed up and moved to New York. And that's when I started working and going to design school."
Industrial Design
Industrial design is the applied art of dealing with the design problems of manufactured objects, from cars to bottles, sneakers and beyond. As Umbereen Qureshi (Football Color Designer 2), explains, "I did industrial design as my major, and we did product design. We did everything, cars and shoes….One of my friends did shoes, and I would see how quickly she could influence the design—make the design and then have the product in her hand. I did automotive design for almost five years, and it takes a while for your product to come out, and I was looking for some more instant gratification. I'd see her projects, and I'd think, 'That looks like so much fun!' So I started applying at footwear companies."
Umbereen Qureshi, Football Color Designer 2
Graphic Design
Graphic design is the art of visual communication that combines images and words to convey information. As Julie Igarishi (Graphic Design Director for Global Footwear) remembers, "Growing up in Oregon, I was in an environment where I didn't know what graphic design was. And I've always been a graphic designer; I just didn't know what it was, what it was called." She now uses her graphic design training to design graphics on soccer cleats, such as the Air Zoom Total 90.
Air Zoom Total 90 (graphic by Julie Igarishi)
Even as Jen Lorentzen (Senior Designer, Nike Sportswear Brand Design Team) graduated from graphic design school, she didn't know all of the possibilities. "When I graduated from school, it was very much like 'This is how you're going to be a graphic designer. And this is how you do letterhead design.' When I graduated I was looking all over for design studios or whatever, and when I met the leader of the studio I went to, he said any good designer should be able to design anything. And that's where I got to work on color forecasting, and product graphics, and all kinds of different things. And Nike recruited me; they're looking for people who have that background, who can take whatever's thrown at them. And honestly, I can say I can't think of another way to work; I always say, 'I could be designing car insurance brochures.' I just have to be so thankful that it all worked out the way it did!" She now uses her graphic design skills to do Brand Design for Nike Sportswear, with projects as diverse as picking colorways for nikeID and picking flowers for the Liberty Dunk Pack release displays.
Liberty Dunks
Apparel Design and Fashion Design
I also got to interview women who came from apparel and fashion design, now using their skills on both sneakers and apparel at Nike. One person who didn't think she'd end up working on sneakers was Shaneika Warden (Color Designer 2 for Nike Sportswear). "I went to the Art Institute of Portland and got a Bachelors of Science in apparel design. All I wanted to do was gowns. I wanted to do couture gowns and sit there and hand sew beads and work with silks and chiffons and things of that nature!" How did she make the big switch? "I never really saw myself working in sportswear, but then I was like, 'Okay, I'm in the Mecca of sportswear, and there's a reason why they're here. I need to check it out. I had a friend who worked here, while I was still in school. So I came and did an informational interview with her. I walked in the door, and I saw this crazy display of Jordan gear. And I was like, 'OH, what's this?' I mean I knew what it was, but it just hit me pretty hard. And made a huge impact. I was like, 'You know what? It's a world renowned company, and if you can do things here, you can do things anywhere.' And I was immediately interested, I was like, 'Okay, I'm going to work for Nike.'"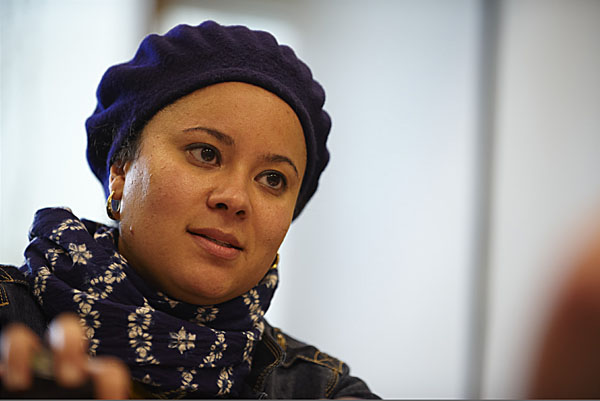 Shaneika Warden, Color Designer 2, Nike Sportswear
INTERNSHIPS
One way to get experience while you're still young is to get an internship. These are usually temporary opportunities to work at really cool brands and gain invaluable experience; some pay and some do not. Jen Lorentzen talks about the advantage of internships: "I worked really hard. I had internships every year in school. That was 2000, and graphic design was the new hot thing, so I was like, 'I have to make myself stand out.' And it worked.."
Nike Internships
As Keryn Francisco says, "We have internship programs because we want to get the next generation to really understand the brand and celebrate it and grow it and carry it into the future." Nike summer internships do pay, and are offered to design school students. To read about Cheresse Thornhill, who parlayed a Nike Internship into a job designing kicks for Jordan Brand, click here.
Other Internships
You can gain valuable design experience by working at a variety of internships, even at femalesneakerfiend! For more information about a variety of sneaker related internships, check the FSF Internship Guide. As Shaneika Warden puts it, "You can always start early! Anything dealing with design, pushing a pencil on paper, putting a paintbrush on canvas, or working in a materials store, learning textiles, being around computers and starting to learn graphics…"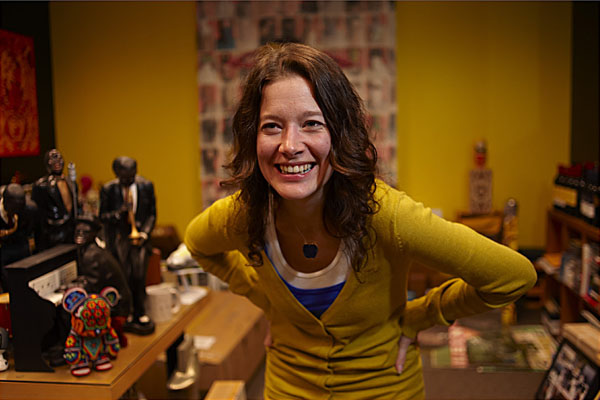 Jen Lorentzen, Senior Designer, Nike Sportswear Brand Design Team
Make Your Own Internship
Jen Lorentzen made her own internship of sorts. She explains, "I went to a liberal arts school. We didn't have any money, so I knew I wasn't getting the education of someone who was at RISD (Rhode Island School of Design). It just wasn't going to happen at my school. So doing the internships, I started a mini studio within the program where we were taking on freelance clients as a student agency, and doing it for free basically, so that we could get outside experience. There are only so many fake projects you can do! But I think making contacts with people, offering your services to anyone who'll take it, it's huge. That's why I made this student agency, because it made me not this person alone who didn¹t graduate from school yet, but it gave me a reason to be soliciting business."
MENTORING
How about having Tinker Hatfield as your mentor? That's what Nathalie Candrian (Creative Director, Nike Tennis Footwear) has at Nike now, as she's left the Innovation Kitchen to work with Maria Sharapova and other tennis athletes as the Creative Director of Tennis. "Tinker, as a person, is not intimidating. It's obvious you know who he is, but he's so happy and so excited to work with young people…and sit and talk about how we do things, talking about a product or innovation or details, or how to bring the emotion or personality of an athlete into it….Even now with working with Maria [Sharapova], he's a mentor to some degree. We talk product, but we also philosophize about Nike and interacting with our athletes, and what it means to work with them and how to interact with them."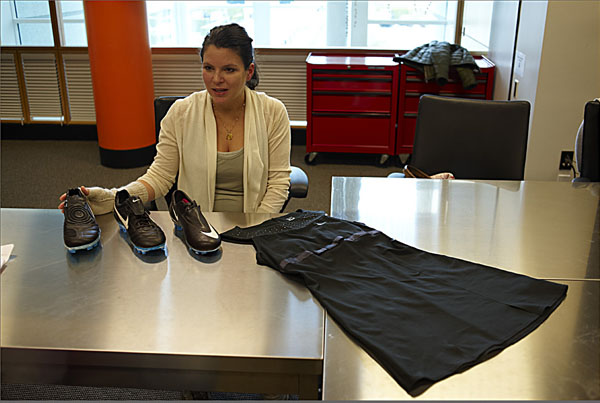 Nathalie Candrian, Creative Director, Nike Tennis Footwear
Mentors can help you think about your goals, push you to stay focused and share their networks with you. As Shaneika Warden says, "I don't think you ever stop working with your mentor. You're constantly learning from everyone, and when you have someone available to you to help hand hold, they challenge you as much as the rest of the world, if not more!" Keryn Francisco adds, "I have a couple mentors here at Nike. This company is full of really powerful and amazing women, and they inspire me, and they tell me that I inspire them. Because it's a two way street; it's very mutual. And you can find mentors anywhere."
Kelly Tweeden, Nike Sportswear Design Director
Some of the women also discussed being mentors themselves. Kelly Tweeden talked about her role as a mentor to the designers she works with: "To be a director of any type requires the ability to help mentor people and find the best in them. On a day to day basis you constantly make yourself available; you have an open door policy. You wait for that moment when every designer gets to where they're like, 'I know exactly how to solve this problem', with Nike DNA, and bringing the right thing to the market. It's a great feeling mentoring people and having them reach that connection point."
So how do you make those opportunities happen? Mostly it's about seizing the opportunity and just asking someone. If you have someone you admire—for their design skills, their job, their creativity or business savvy—ask them to be your mentor. It's a compliment, and often women are happy to give back by helping younger women and girls who are coming up. As Keryn says, "I tell people…if I meet a young girl, I say come in and talk to me. I'll give you some of my time. That to me is more important. Honestly as a kid I would have died for the opportunity."
PASSION
Okay, if you want to work at Nike, you can't be shy about it. Whether you're still in school or on your way to your Nike interview, you gotta go for it. Here's a great example from Umbereen Qureshi: "Oh, so when I was interviewing for this soccer position, I didn't know, I'm American so I know more about basketball and football, but once you get into soccer, you get really into it, it's intense. I wasn't sure if I'd get the job, so I went to the employee store and I bought myself a pair of cleats, and I wore them everywhere! I have a manual shift car, and I was trying to drive, and I couldn't drive very well; I was slipping off the clutch! And I was thinking, 'This is such a bad idea.' And everyone was like, 'What are you doing? You're driving in those??' So I kept wearing them, but I had to switch out my clutch foot to another shoe, another Nike pair that I had. This lady was like, 'You know you're wearing two different shoes, right?' And I was like, 'I know!' And you'd hear me walking, click, click, click."
Umbereen Qureshi, Football Color Designer 2
Keryn Francisco talks about how her passion for apparel brought her to Nike, "When Nike contacted me, it was crazy…..It was because I was so passionate about my job and so passionate about apparel. It translates, no matter what field you're in. People want to be a part of that enthusiasm. And once you talk to somebody who knows what you're talking about, you light up. People understand that and are attracted to that. That'll slide you in any door so much easier. Passion is contagious and undeniable. And you can't fake it! And you can't learn it; it comes from here [pointing to her heart]….So Nike and I, when we first met up, it was an instant chemistry."
A FEW MORE TIPS
Confidence
Don't know everything yet? Scared you don't have enough experience? Don't wait! Jump in. As Umbereen says, "You never know what you're doing when you start! Otherwise we'd all be brilliant at like, two. I say if it's something you love, then get into it, learn about it, because Nike's a great place to learn….and I think it's a constant learn, and not to stress about it, just be open to learning, innovating, coming up with new ideas. And if you want to work at Nike, just go for it. Just do it! (Laughs.)"
Networking
Never underestimate the power of a connection, even a small one, to the company you're looking to work for. Nike knows that its employees understand exactly what it takes to work there, so if they recommend you, it's a good sign that you'd fit in. Half of the women I interviewed had at least some small connection to Nike before arriving. Here are the ways that these designers parlayed even a friend-of-a-friend-used-to-be-an-intern into a foot in the door:
"There was another person at the company that probably gave them my name."
"I had talked with some people who had gone up to Nike, and I was always very interested."
"I had a friend who worked here, while I was still in school. So I came and did an informational interview with her."
"One of the guys that worked at Ford had an intern that was there that was in footwear, so he hooked me up with him..."
So don't be shy!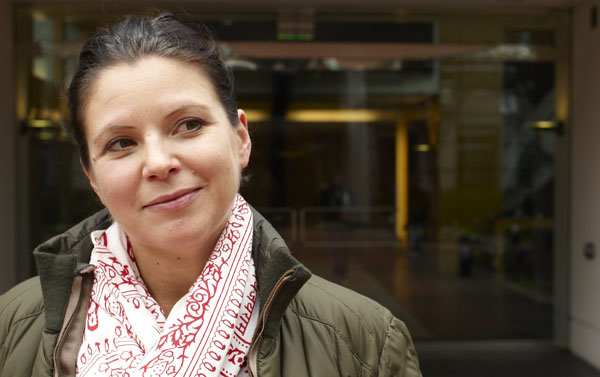 Nathalie Candrian, Creative Director, Nike Tennis Footwear
Openness
You might think you're going to design gowns and end up designing kicks, or you might think you want to design kicks and end up designing gowns, who knows! "To me it's really just about being open to anything. Not channeling yourself into 'This is who I am and this is what I know how to do'," offers Nathalie Candrian. "Keeping an open mind is part of design, and the excitement of design and creating, of seeing a challenge in anything, that gets you going and gets you to what I do, for example. I never had an exact plan, of how to get here or what to do, and if someone had told me ten years ago that this is what I'd be doing, I'd be like, 'Really? What?' I never thought I'd be working in soccer boots or basketball shoes, but staying open to anything seems the key to me. And it's part of design."
CONCLUSION
So there it is. Getting a job as a Nike designer uses the same skills as working there: Staying open, staying passionate, staying focused. (And working your tail off! Did we mention that?) As Drieke Leenknegt, Global Design Director Brand/Energy, puts it, "That's the amazing thing, on the one hand you have this big company, on the other hand you have the human potential within the company. And the human potential comes to Nike for the passion, what the brand stands for; they come here for their values….and the power if we come together and start using that human potential." Sandy Bodecker, Vice President of Global Design (and 6th on Fast Company's list of most creative people in the world) concurs : "Like Nike, I believe in the power of human potential to do amazing things, whether it is on the playing field of life or sport." So there's your challenge! If you want to design for Nike, it sounds like their old slogan is still true: Just Do It.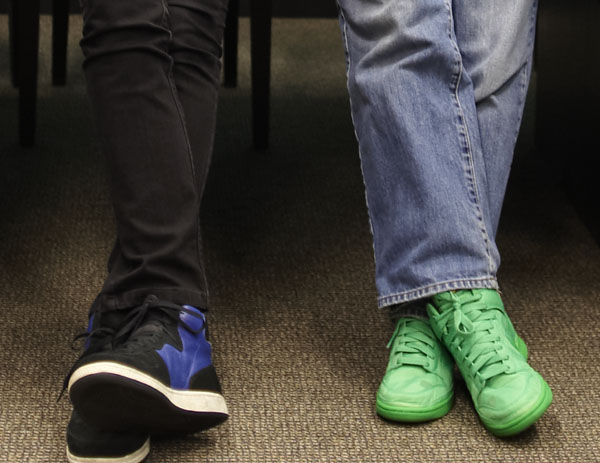 Drieke Leenknegt, Global Design Director Brand/Energy (left), with author, Lori
Also in this series:
Something Old, Something New: Nike design moves forward while staying connected to its roots
Goddess of Victory: An Insiders' Look at Women and Nike Today
All photos by Kyle Heddy at treadinglight.com